Indonesian President Joko Widodo says he has ordered the National Commission for Transportation Safety to investigate crash of a Lion Air plane.
He said rescuers are making their best efforts to find victims and urged Indonesians "to keep on praying."
Widodo, speaking in Bali where he was attending a conference, said he feels the anxiety of families and hopes they can remain calm while rescuers are working hard at the crash location at sea northeast of Jakarta.
The plane with 189 people on board crashed minutes after takeoff early Monday. Lion Air's president says the plane that crashed into the sea Monday had a technical problem on its last flight that was resolved.
Airline President Edward Sirait said Monday the technical problem on Boeing 737 Max 8 plane was resolved in accordance with the manufacturer's procedures. He wasn't more specific but said the problem on the earlier flight would be part of the investigation of Monday's crash.
Separately, Indonesia's Directorate-General of Air Transportation said the flight from Jakarta to Pangkal Pinang requested to return to Jakarta shortly after takeoff from the capital's airport. The plane crashed into the sea about 13 minutes after takeoff.
In a statement about the tragedy, the air transportation agency's spokesman Sindu Rahayu said, "The plane had requested a return to base before disappearing from the radar." It gave no other details about the request.
Boeing says it is "deeply saddened" by the crash of a Lion Air plane off the Indonesian coast and offered to help with the investigation.
Lion Air Flight 610 crashed shortly after takeoff from Jakarta on Monday morning. Searchers so far have found plane debris and personal items but no bodies.
The 737 Max 8 plane was bound for Pangkal Pinang on an island chain off Sumatra.
The Chicago-based planemaker said it is prepared to provide technical assistance into the crash probe, which will be carried out by Indonesian investigators.
In its statement, Boeing Co. expressed its concern for the 189 people onboard, and offered "heartfelt sympathies to their families and loved ones."
Families are turning up at Indonesia's National Search and Rescue Agency headquarters in Jakarta for word of their loved ones after a Lion Air plane crashed at sea.
Indonesia's Finance Minister Sri Mulyani met with the agency chief, seeking information about 20 finance ministry staff who were on the flight. The Boeing plane disappeared Monday morning and the search is concentrating in oil-slickened waters where debris has been found.
Aviation tracking website Flightradar24 says the Lion Air plane that crashed after takeoff from Jakarta was a brand-new aircraft that has only been in use for a couple of months.
The site says the 737 Max 8 plane was registered as PK-LQP and was delivered to the airline in August.
Vessels searching in the water for the Flight 610 wreckage have found various items of debris. The Max 8 is part of Boeing Co.'s latest narrow-body 737 series. It replaced the similar 737-800 in the Chicago-based planemaker's product line.
Boeing spokesman Paul Lewis says Boeing is "closely monitoring the situation" but did not provide details on the aircraft in question.
According to Indian News paper, L: Bhavye Suneja, resident of Delhi's Mayur Vihar, was 'Captain of Indonesian plane'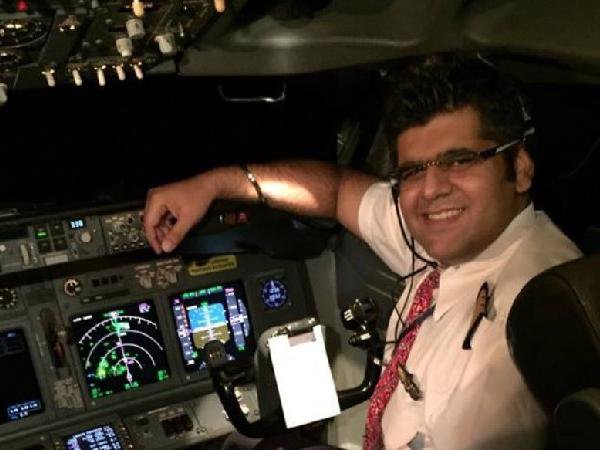 Hours after a Lion Air Flight JT 610 with 188 people onboard crashed into the sea on Monday, it was reported that Bhavye Suneja, a resident of Delhi's Mayur Vihar, was the captain of the Indonesian carrier. According to The Times of India, Suneja, an alumnus of Ahlcon Public School, had joined the Lion Air in March 2011.
According to The New York Times, Captain Suneja had over 6,000 flying hours. The TOI, meanwhile, mentioned a senior official of an Indian airline that 31-year-old Suneja was pondering over returning to India.
Courtesy: Associated Press and other Newspapers