After the decision of the Chinese government to farewell to the zero-COVID-19 policy, different countries around the world tighten coronavirus border controls for arrivals from China.
Although Nepal has retained 72 hours of mandatory PCR test results or COVID-19 vaccination certificate to enter Nepal, experts are discussing whether such provisions are enough to contain a new variant of the Covid-19 virus which is now surging in China.
Nepal's health officials said that the government will begin tightening temporary border controls starting Sunday for people arriving from China in response to the surge in coronavirus infections there.
Travelers who arrive via direct flights from mainland China will be required to show proof of a negative test result obtained within 72 hours before departure. Those who test positive will be required to stay at quarantine facilities.
Suffered heavily in the last three years, the Nepalese tourism sector sees the decision as a good gesture, However, they are also worried about the negative arrival of tourists from other countries in case of unrestricted entry of Chinese tourists.
With the evolution of Covid virus, the symptoms related to the infection have also changed significantly. The symptoms like loss of taste and smell and shortness of breath, which was once classic indications of COVID, are no longer that common. Meanwhile, people today regularly complain of sore throat, sneezing and gut-related sickness when they contract the infection.
Amid the sudden surge in cases in China and a few cases of Omicron BF.7 (the variant behind China's infection surge), people are worried about the symptoms that might indicate that they have COVID. Here are COVID symptoms that are currently considered common in India.
Currently, Omicron is the most dominant variant across the world so we should be aware of the symptoms this strain can cause.
Omicron BF.7 is not that worrisome
Last week, experts opined that India need not worry too much about its severity on the population.
"This is a sub-variant of Omicron. The main features will be like Omicron except for some small changes, there is no big difference. Most of us have gone through the Omicron wave. So, we don't have to worry about it. Essentially, it is the same virus," he said.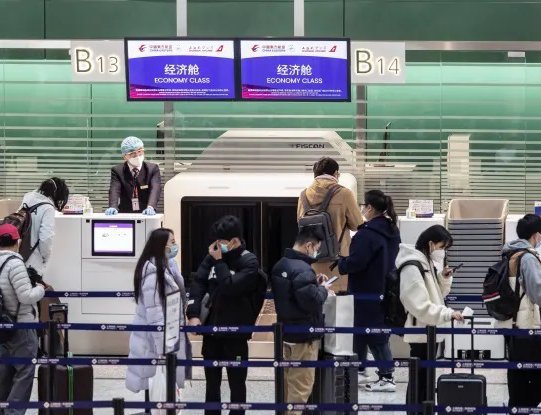 China is experiencing a surge in infections due to its "zero-Covid policy", under which authorities block apartment buildings or even cordon off a neighborhood once a resident tests positive, causing great inconvenience to the people, the scientist said.
As per available reports, nearly 5.37 lakh new cases have been reported in the last 24 hours from major countries like USA, Japan, and South as per the available reports, nearly 5.37 lakhs new cases have been reported in last 24 hours from major countries like USA, Japan, South Korea, France and Brazil
Travelers began streaming into mainland China by air, land and sea on Sunday, many eager for long-awaited reunions, as Beijing opened borders that have been all but shut since the start of the COVID-19 pandemic.
After three years, mainland China opened sea and land crossings with Hong Kong and ended a requirement for incoming travelers to quarantine, dismantling a final pillar of a zero-COVID policy that had shielded China's people from the virus but also cut them off from the rest of the world.
China's easing over the past month of one of the world's tightest COVID regimes followed historic protests against a policy that included frequent testing, curbs on movement and mass lockdowns that heavily damaged the second-biggest economy.
Long queues formed at Hong Kong's international airport for flights to mainland cities including Beijing, Tianjin and Xiamen and some Hong Kong media outlets estimated that thousands of people were traveling across.
"I'm so happy, so happy, so excited. I haven't seen my parents for many years," said Hong Kong resident Teresa Chow as she and dozens of other travelers prepared to cross into mainland China from Hong Kong's Lok Ma Chau checkpoint early on Sunday.
"My parents are not in good health, and I couldn't go back to see them even when they had colon cancer, so I'm really happy to go back and see them now," she said, adding that she plans to head to her hometown in eastern China's Ningbo city.
Investors hope the reopening will eventually reinvigorate a $ 17 trillion economy suffering its lowest growth in nearly half a century. But the abrupt policy reversal has triggered a massive wave of infections that is overwhelming some hospitals and causing business disruptions.
The border opening follows Saturday's start of "Chun Yun", the first 40-day period of Lunar New Year travel, which before the pandemic was the world's largest annual migration of people returning to their hometowns of taking holidays with family.
Some 2 billion people are expected to travel this season, nearly double last year's movement and recovering to 70% of 2019 levels, the government says.
Many Chinese are also expected to start traveling abroad, a long-awaited shift for tourist spots in countries such as Thailand and Indonesia, though several governments - worried about China's COVID spike - is imposing curbs on travelers from the country.
Travel will not quickly return to pre-pandemic levels due to such factors as a dearth of international flights, analysts say.
China Sunday also resumed issuing passports and travel visas for mainland residents, and ordinary visas and residence permits for foreigners. Beijing has quotas on the number of people who can travel between Hong Kong and China each day.
VISITORS, HOMECOMINGS
At the Beijing Capital International Airport, families and friends exchanged emotional hugs and greetings with passengers arriving from Hong Kong, Warsaw and Frankfurt at the airport's terminal 3, meetings at the arrival hall that would have been impossible just a day ago due to a now-canceled requirement for travelers from abroad to quarantine.
"I've been looking forward to the reopening for a long time. Finally, we are reconnected with the world. I'm thrilled, I can't believe it's happening," said a businesswoman surnamed Shen, 55, who flew in from Hong Kong.
Other people waiting at the airport included a group of female fans carrying long-lens cameras in hope of catching a glimpse of the South Korean boy band Tempest, the first idol group from South Korea to enter China in the past three years.
"It's so good to see them in person! They are much more handsome and taller than I expected," a 19-year-old who gave her name as Xiny told Reuters after chasing the seven-member boy band, who flew in from Seoul via the Chinese city of Dalian.
"With quarantine restrictions lifted, it's going to be so much more convenient to fly over to see them, and for them to come to Beijing," she said.
PROTESTS
Such scenes of reunions, however, jarred with other protests in some cities around China over the weekend, a reminder of how the economy remains under strain.
Protests are not rare in China, which has over the years seen people come out in large numbers over issues such as financial or property scams. But authorities have been on higher alert after widespread protests in Chinese cities and top universities at the end of November against COVID restrictions.
On Saturday, hundreds of Tesla (TSLA.O) owners gathered at the automaker's showrooms and distribution centers in China to protest against its decision to slash prices for the second time in three months, a move it made to spur sales at a time of faltering demand in the world's largest auto market.