The Kathmandu Metropolitan City, Autism Care Nepal Society (ACNS) and the popular Nepali rock band, 1974AD, are partnering to stage a free Concert for Autism, 5pm, Tudikhel.
The concert will raise awareness and celebrate people with neuro-developmental differences. The Australian Embassy is proud to be supporting the event.
It is estimated that 300,000 children in Nepal have autism spectrum disorder (ASD). Autism affects all ethnic and socioeconomic groups. Early intervention can improve learning, communication and social skills, as well as underlying brain development.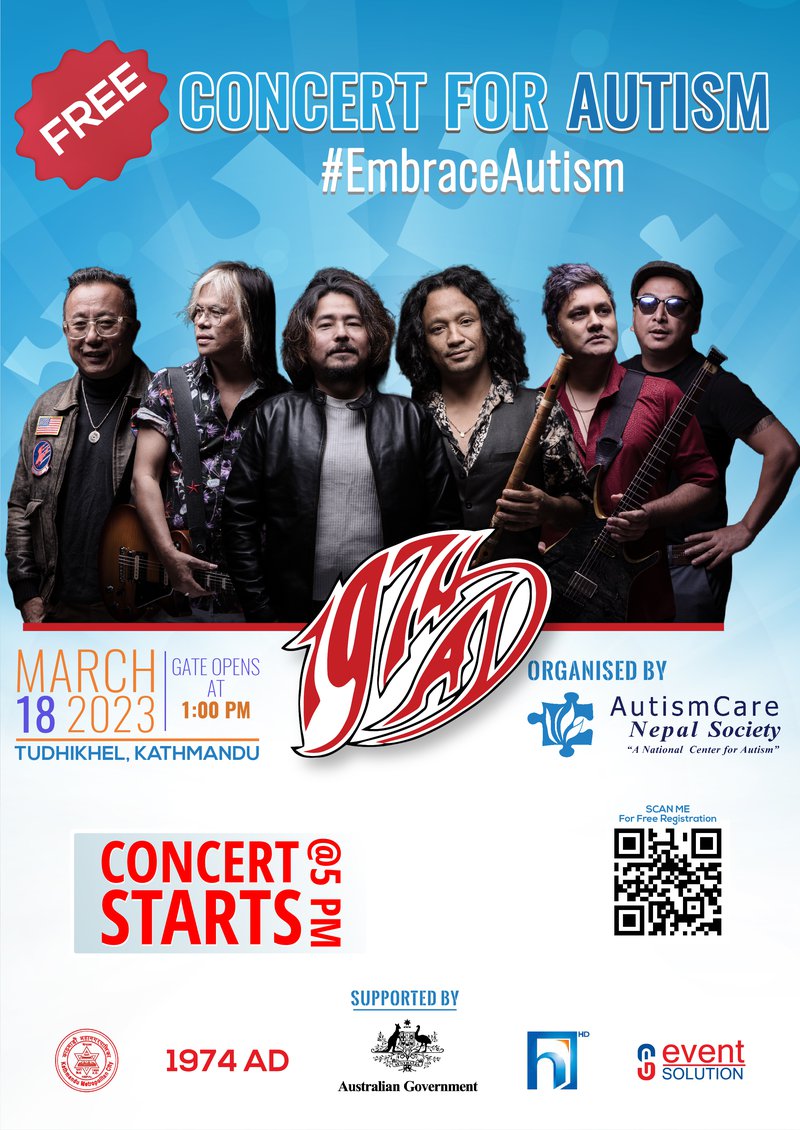 According to Chairperson of Autism Care Nepal Society, Dr Sunita Malekhu, "Autism is rarely discussed and there is limited public knowledge of this disorder despite its prevalence in Nepal. Parents, health professionals, community stakeholders are quite unaware about child development delays and differences, leading to late diagnosis.
"It is crucial to share information on these issues, raise awareness and help our people to recognize this condition at an early age. Given timely diagnosis and treatment, people with autism can lead fairly functional lives with modest support.
"ACNS believes this concert will create history to #EmbraceAutism and ensure better recognition, understanding, acceptance, visibility and action for autism to guarantee social inclusion."
Deputy Mayor of the Kathmandu Metropolitan City,Sunita Dangol, said that KMC has made disability inclusion a special priority and is working with different organizations to realize this. "I call everyone to participate in the special awareness campaign and Concert for Autism," Deputy Mayor Dangol said.
Australian Ambassador to Nepal Felicity Volk said the Australian Government similarly prioritises disability inclusive development. "This concert is history-making," Ambassador Volk said,"but it is one moment in time. When concert-goers leave Tudhikhel on Saturday night, filled with the energy and passion that comes from listening to one of the world's greatest rock bands, my hope and prayer is that they'll use that energy to share the message #EmbraceAutism.
"And I hope they'll find practical ways to support neuro-diverse people in the weeks, months and years to come. Because there is great beauty and strength in our uniqueness."
The 1974AD has said, "1974AD band members #EmbraceAutism. We are very glad to be performing our Concert for Autism and hope this event will be instrumental in spreading messages about autism. Autism speaks and it is time we listen."