Chandra Prasad Dhakal, President of the Federation of Nepal Chamber of Commerce and Industry, has said that the upcoming budget brought by the government requires special initiatives to improve the existing economic situation.
Addressing a discussion program of the private sector's contribution to the economy held in Kathmandu, President Dhakal said that for the improvement of the government economy, interest rate stability, restructuring and rescheduling of loans and re-loans should be provided to entrepreneurs.
He said that the Rastra Bank has partially covered the demands of the businessmen in the quarterly review of the monetary policy, but it is not enough to make the market viable and the future monetary policy needs to be more flexible.
He emphasized that the government should plan to bring in more remittances through formal channels. President Dhakal demanded the government to restart the stopped remittance service used by people with low income.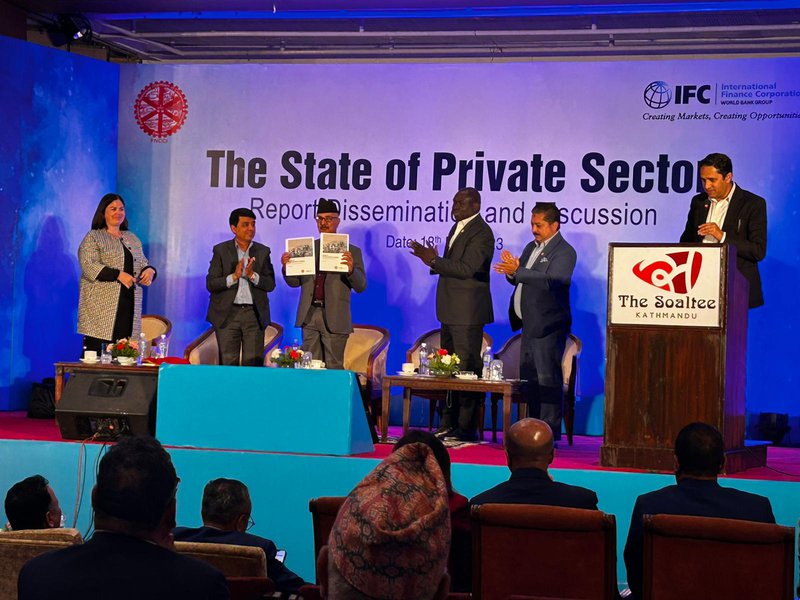 He said that since the external sector is satisfactory, it is possible to come out of the recession immediately, and there is a need to bring tools that can create demand in the market through monetary and financial policies.
He said that there is a possibility of gradual improvement in the economy from the next financial year, and said that it is not possible for the government to promote the private sector for economic transformation. He said that the government should give opportunities to the private sector in investment areas with comparative advantage and in new areas.
He said that a special program is necessary for the production and export of mineral products including iron in Nepal.
He said that it is possible to earn about two billion dollars per year only from the gravel and sand accumulated in various rivers.
He said that it is necessary to identify such mines and promote products of comparative advantage by minimizing the environmental impact. President Dhakalal said that the industry, trade and construction sectors are negative and the private sector has not been able to work as expected for the past one year. He studied industry,
He said that as the revenue has decreased by 16 percent, it is becoming difficult for the government to meet its current expenses. He said that 600,000 youths have migrated abroad for work in the last 9 months due to the inability of the private sector to provide employment.
He said that the leading role of the private sector is necessary for sustainable economic development in the country. He said that the starting point for economic reform should be the upcoming budget. He said that due to low demand, most businesses in the private sector are operating at less than half capacity. He said that the negative economic growth rate in three quarters is a worrying situation