The Nepal-India Transit Treaty 1999, which is considered very important for the facilitation of Nepal's foreign trade, has been renewed with amendments.
Secretary of Ministry of Industry, Commerce and Supply Madhu Kumar Marasini and Ambassador of India to Nepal
Naveen Srivastava signed and exchanged the protocol in presence of Prime Minister Pushpa Kamal Dahal Prachanda and Prime Minister Narendra Modi.
Earlier, in the joint press conference of the Prime Ministers of the two countries in New Delhi, India, the Minister of Industry, Commerce and Supply, Ramesh Rizal, and the Minister of Commerce of India, Piyush Goyal, exchanged an agreement regarding the treaty.
Although it expired in 2019, it could not be renewed due to the lack of agreement on the amendment of the treaty. Prime Minister Pushpa Kamal Dahal, who is on a visit to India, was able to make conducive environment to sign the treaty.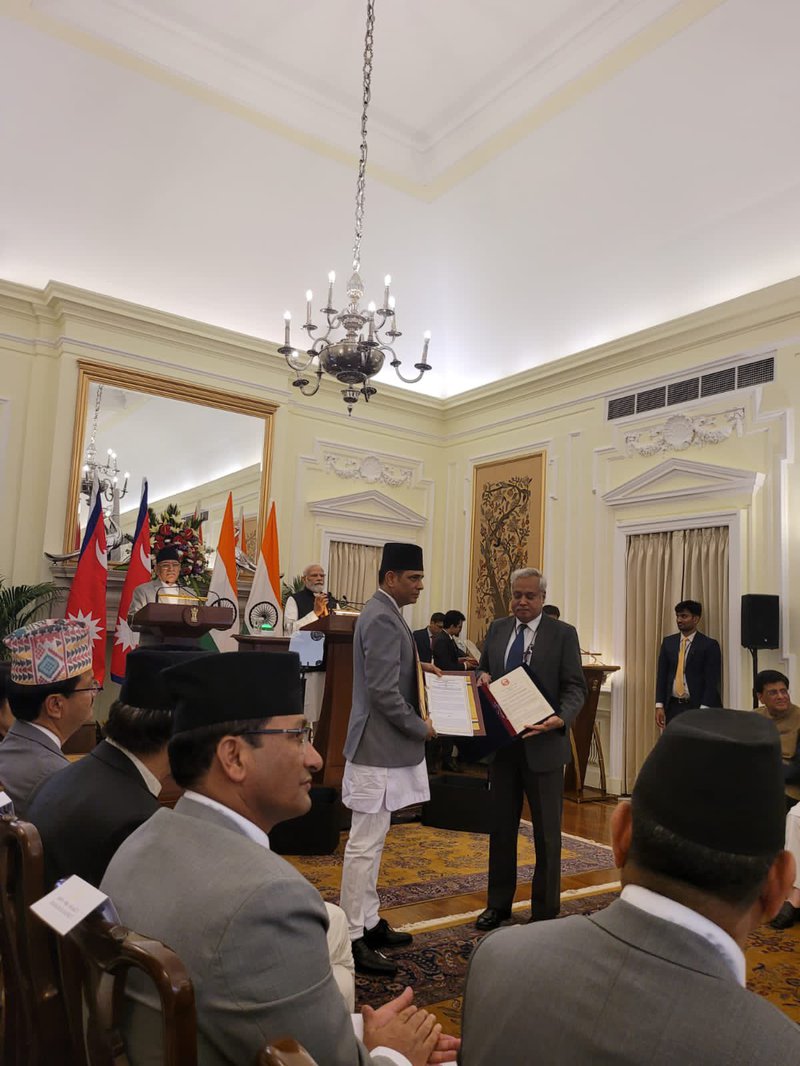 Marasini, Secretary of the Ministry of Industry, Commerce and Supply, who is part of the Prime Minister's visiting team, said that it is important to sign the Transport Treaty as it has not been renewed for the past 4 years.
A land-locked country like Nepal was not easy if the transit agreement was not renewed. This is an important achievement," Marasini said. He said that Nepal now has access to the sea by road, rail and water.
After the renewal of the treaty, the way to operate ships from Nepal to the sea has been opened, while Nepal has got more facilities with waterways for trade to India and third countries.
It is possible to import and export goods through containers through electronic tracking through Banaras waterway to Birganj and Bhairahawa crossings, through Sahibganj waterways to Biratnagar and Kalughat waterways to Nepalgunj crossings.
Commercial expert Ravi Shankar Sainju said that Nepal's access to the Sahibganj waterway has expanded the access to the Saptakoshi River through the Indian waterway. For that, Nepal will have to prepare internal waterways.
India has developed inland waterways on the Ganga River. If Nepal develops internal waterways in its rivers, Nepal will have access to the sea through the waterways of the Ganga River, said Ravi Shankar Sainju, a former joint secretary of the Ministry of Commerce, who is knowledgeable about the matter.
Similarly, Sainju said that Nepal has access to three terminals in India's internal waterways. Similarly, Sainju said that Nepal will be able to do international trade through the inland waterway terminals at Banaras, Sahibganj and Kalughat which are being built by India.
After signing the treaty review, Nepal will now open the way to bring bulk cargo from India's Visakhapatnam port to Biratnagar and Bhairahawa ports.
"The signing of the revision of the treaty is very important for Nepal's transit access," Sainju said, "Now we have access to two ports for bulk cargo and three waterways from Visakhapatnam. It also opened the way for sailing ships up to Nepal.