Seven solar drinking Wwater projects have been built with assistance from the Japanese government. More than 11,000 residents in the Mahesh province's Sarlahi and Siraha districts now have access to clean drinking water as a result of the project's completion.
The installation of solar pumps with a combined capacity of 186 kWp was supported by the Government of Japan, the Alternative Energy Promotion Centre (AEPC), and the United Nations Development Program (UNDP).
One of the seven projects, the 9 kWp Kothi Khola Solar Drinking Water Project, was given to the Atrauli User's Committee in Ward 1, Harion Municipality, Sarlahi district, Madhesh province, by the Japanese government and the UNDP.
It offers access to irrigation for contemporary agriculture, including as drip irrigation for greenhouse farming, to more than 260 residents.
Takahiro Tamura, the interim charge d'affaires of Japan in Nepal, spoke at the handover ceremony and praised the AEPC, UNDP, the District Water Supply and Sewage Office, the Hariwan Municipality, and the residents of Atrauli.
Takahiro Tamura, Charge d'Affaires ad, stated "I hope that this project will improve the quality of life and provide sustainable access to clean drinking water." I'm hoping that the local community's participation in the team's training will help the initiative run sustainably." He continued by saying that the project would deepen friendship between the citizens of the two nations, as well as connections between Japan and Nepal.
Thanking the Japanese government, AEPC and UNDP, Mayor of Hariwan Municipality Ramesh Budhathoki said, "We really need to replicate this model to promote sustainable use of water resources by utilizing renewable energy-based water pumping." We pledge the support of our local government for upkeep of the solar-powered water system.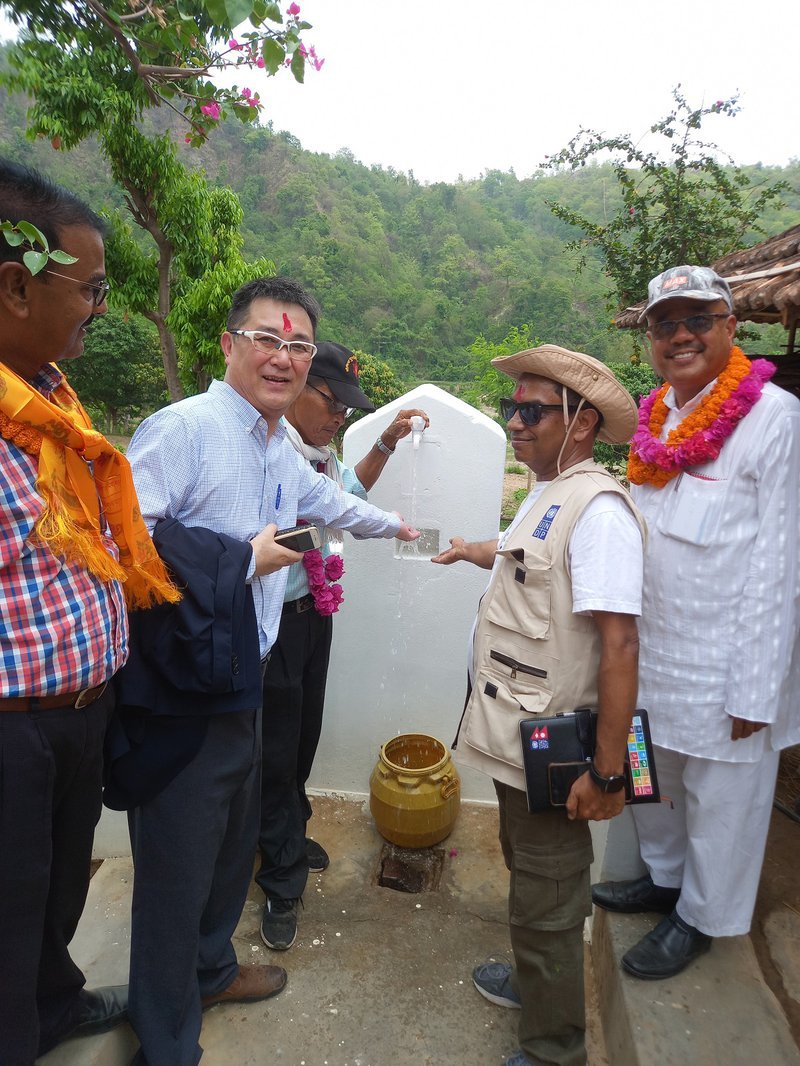 Vijaya Singh, Assistant Resident Representative, UNDP, emphasized the significance of the initiative for attaining the goals of the Nationally Determined importance and thanked all partners.
'Now we don't have to walk three hours a day to gather water and we can utilize that time in agriculture and some constructive activities which will help us in our livelihood,' said Kunta Maya Rapal, President of the Atrauli User's Committee.
The Chure hill regions of Nepal are particularly vulnerable to a lack of access to a supply of clean water. Because of deforestation, uncontrolled development, and the exploitation of sand and stone, all of which are made worse by climate change, locals have long been forced to rely on tiny seasonal streams and water holes. Women and children spend 3–4 hours a day lugging water to their homes. With assistance from the Japanese government, solar PV backup systems were erected in addition to the solar-powered drinking water system. As a result, the electrical supply to 2 schools in the Sarlahi district's Sarlahi district's computer and audio-visual equipment, as well as 11 healthcare facilities' vital medical equipment, was uninterrupted.
To assure their continued use even after the project is completed, 266 women and men have been trained in various elements of solar PV technology and institutional construction.
Leveraging NDCs to Achieve Net-Zero Emissions and Climate Resilient Development in Response to Climate Emergency, a project funded by the Japan Supplementary Budget, seeks to increase residents' access to modern energy services by using solar energy solutions, electricity generated by micro hydropower plants (MHPs), agro forestry, and waste management.
11,865 people benefited from the installation of 7 solar drinking water projects with a combined capacity of 186 kWp in the Madhesh province's Sarlahi and Siraha districts.
The project restored 14 MHPs in the provinces of Karnali and Sudurpaschim, producing 1,378 kW of electricity for 67,000 people. A total of 164 homes began using electric cook stoves, and 129 people, including 62 women, started working using productive energy.
Multilayer plantation has been used to repair 85 hectares of damaged land in total. The project helped six hospitals manage hospital trash more effectively.
In order to improve their Nationally Determined Contributions in accordance with the global Paris Agreement, 120 countries—including 14 major emitters, 28 small island developing states, and 40 least developed countries—are supported by Climate Promise.