53 young Nepali students were overjoyed to get Erasmus Mundus Scholarships, which will allow them to pursue further education at renowned colleges in Europe.
Young people from Nepal learned how to adapt to new circumstances during pre-departure orientation while gathered in the grounds of the European Union Embassy.
Pre-Departure Orientation (PDO) for the new scholarship holders of Erasmus Mundus Joint Master Degree (EMJMD) batch 2023-2025 was organized on July 14 by the Delegation of the European Union to Nepal and the Erasmus Mundus Association Nepal.
Nona Deprez, the ambassador of the European Union to Nepal, who will end her three-year term there in a few weeks, appears pleased and delighted to welcome 53 Nepalese youth who have been chosen to receive Erasmus Mundus Scholarships to study in Europe.
Three years ago, when she arrived in Nepal as ambassador, the COVID-19 Pandemic was in full swing. Despite COVID-19, ties between the EU and Nepal have reached a new high in all areas, and the EU's assistance in boosting youth capability and capacity is very important.
53 Nepalese students were once again chosen for the scholarship to receive a top-notch education in Europe. Her remarks demonstrate her delight given her devotion to Nepal and Nepali young.
"I am indeed very pleased to share that Nepal is among the top 20 recipients of the prestigious Erasmus plus scholarship globally," EU Ambassador Deprez said in a statement welcoming the scholarship recipients. "I would like to congratulate the students for their outstanding academic achievements."
The Erasmus scholarship, according to Ambassador Deprez, is exceptional in that it enables degree mobility and the acceptance of joint or multiple diplomas within the EU and outside of it. She wished the scholarship recipients the best of luck on their fulfilling academic journeys and hoped to see them return to Nepal to help close the country's human resource gap.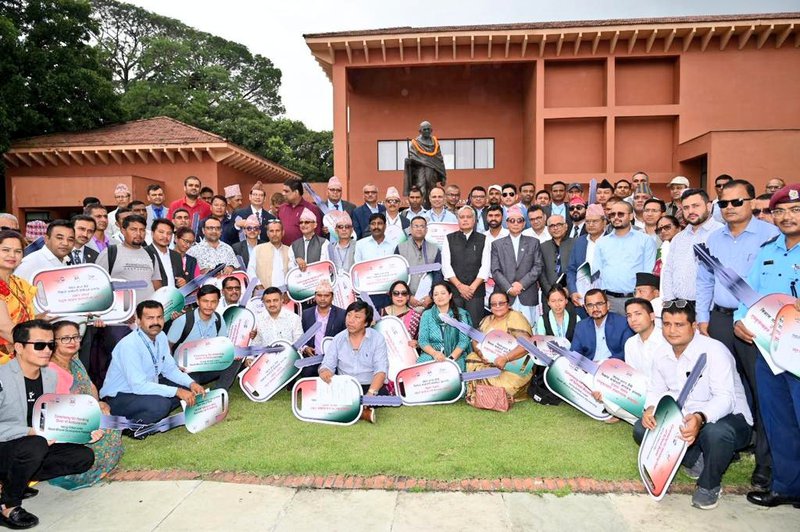 She observed that since 30 out of the 53 students receiving the scholarship are from the Bagmati province there is a glaring need to spread the word far and wide across Nepal about this unique opportunity that is open to all.
Altogether 53 Nepalese students- 27 girls and 26 boys have been awarded full scholarships for the period 2023-2025 and they will spend 2 years fulltime in prestigious European Universities and beyond to pursue their Master's Degrees in various fields. During the Pre-Departure Orientation, the students got useful tips and advice for living and studying in Europe.
The main subject areas of their choice are Cyber Security, Global Forestry, Environment Technology & Engineering, Urban Studies, Media, Arts & Culture, Women's & Gender Studies, Documentary Film Making, and Plant Breeding.
The European Union is the largest global donor in education with its Erasmus+ program. The new Erasmus programmes' budget for 2021-2027 is totalling 26.2 billion euros, compared with 14.7 billion euros for the previous seven-year cycle of 2014-2020. With this very substantially increased budget, Erasmus+ will be even more inclusive, more digital, and more green!
More than 800 Nepalese students have benefitted from the EU's Erasmus+ Scholarship Programme. The Erasmus+ scholarships also provide opportunities for Europeans to undertake short-term studies and teaching in various universities across Nepal.
Prashant Mishra from the Madhesh province, who has received the scholarship for Master's Degree in Sustainable Transportation and Electrical Power System said, " I would like to thank the European Union and the Erasmus+ programme for giving me this opportunity to attend some of the best universities in the world as a Erasmus scholar. Coming from a province with the lowest HDI scores in the country, it is not always easy for us to get the same opportunities as students from other provinces. That's why being one of the recipients of the full scholarship means a lot to me and will definitely help me achieve my career goals." Mishra is going to Italy for his Master level studies.
Another Erasmus+ Nepal awardee Pratibha Pant said, "I am from Sudurpaschim, one of the most remote and underdeveloped provinces in the country. My province may lack many things but one thing it has is young people like me who are willing to help develop our province in a sustainable and equitable manner. This Erasmus+ scholarship will bring me one step closer to achieving that goal, so I would like to thank the European Union for giving me this opportunity. Panta is going to Italy to study Economic Policy Analysis."
Niranjan Khadka, Country Representative of Erasmus Mundus Association-Nepal, shared EMA Nepal's current activities and plans. He said, "We have been holding information sessions for prospective applicants of the Erasmus scholarships in different cities of Nepal with the goal of making the scholarship known and accessible to all. We are also equally focusing on strengthening the networking of EMA Nepal and building it as a common platform to share each other's experience and opportunity," said Khadka.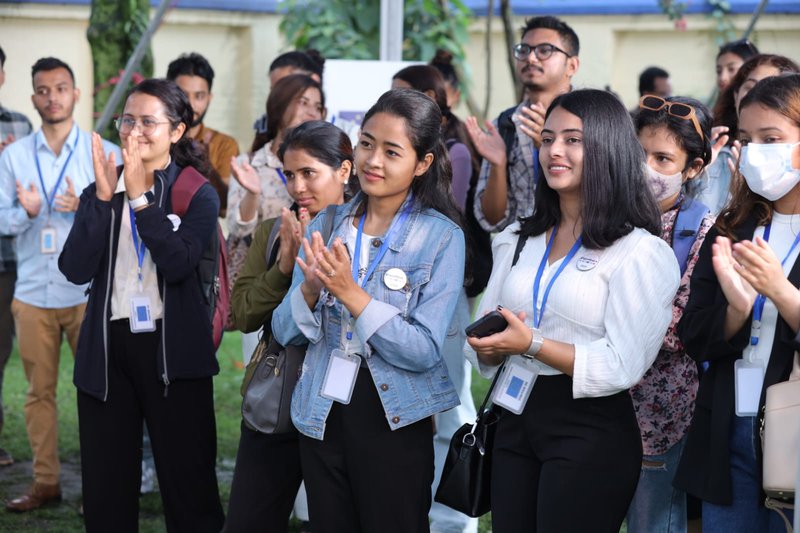 Representatives of the EU Member State Embassies based in Kathmandu and New Delhi also participated in the programme and answered the queries of the students who are looking forward to begin their studies in different countries in Europe. Those present were Ms. Liisa Uschanov-Eskelinen, chargés d' affaires, Embassy of Finland, Kathmandu and Mr Filip Dufek, third Secretary, Embassy of the Czech Republic, New Delhi, Mr. Žymantas MOZŪRAITIS, Deputy Head of Mission, Embassy of the Republic of Lithuania, New Delhi, Ms Gisela Kristoferitsch, Deputy Head of Mission, Austrian Embassy, New Delhi and Mr. Ivan Vassallo, Deputy Head of Mission, High Commission of the Republic of Malta, New Delhi.
In addition to the Erasmus+ scholarships, the EU Delegation in Nepal has been providing ongoing support to the Government of Nepal/Ministry of Education, Science and Technology on Quality Education and Technical and Vocational Training.
Education has been a key component of the EU's financial assistance to Nepal since the late 1990s through the provision of sector budget support. The EU along with other donors supported the Government of Nepal to complete the School Sector Reform Programme (SSRP-2009-2016) and currently it has been supporting the School Education Sector Plan (SESP), which aims at guiding the reform efforts of the government in line with Nepal's vision to graduate from least developed country status. Education is one of the major pillars of development cooperation for EU's ongoing multiannual indicative programme (2021-2027) for Nepal.
Similarly, the EU support in TVET reform entails strengthening and more effectively implementing a TVET policy responsive to labour market needs, as well as piloting and integrating the Public Private Partnership (PPP) approach in three key economic sectors: agriculture, construction, and hospitality and tourism, in order to offer opportunities for promoting the transition to a greener, climate-resilient and low-emission economy. The TVET-PP aims at reducing youth unemployment by improving access to relevant and high-quality TVET, which will increase their employability and provide them with better economic opportunities in the future.
The EU TVET programme nearing completion has many outcomes, among them, the TVET Sector Strategic Plan for the next ten years is the most significant one in terms of sustainability and lasting impacts. The Ministry of Education received assistance from the EU for the rigours comprehensive analysis of the TVET sector that served as the foundation for the Strategic Plan.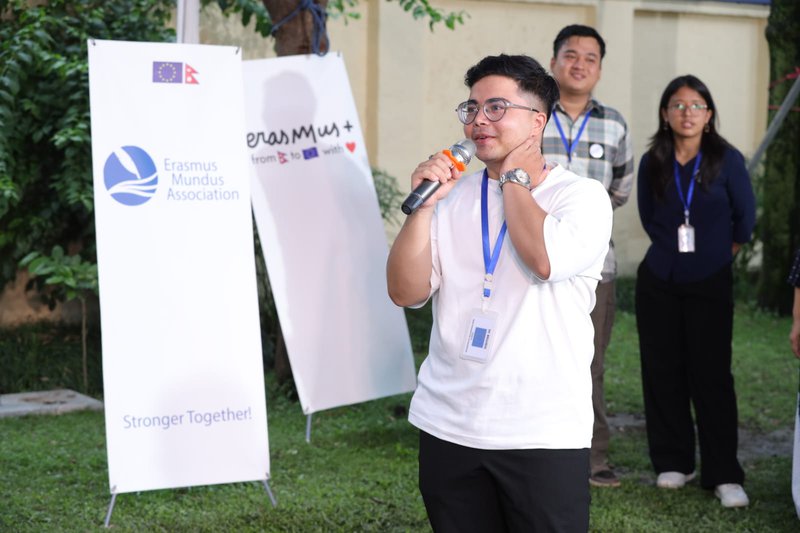 In her latest interview to The Himalayan Times, Ambassador Deprez said, "Nepal is an amazing country. We have supported Nepal's overall development policies nation-wide but we also support specific programmes in the provinces where HDI indicators are weak and where more support is needed. I have travelled more to Karnali, Sudurpaschim, and Madhes provinces where we support such specific programmes. I have met elected representatives in those provinces."
Her statements speak volume about her affection to Nepal.