The past three months have been extremely busy for Mohan Prasad Gautam, Upper Tamakoshi Hydropower Limited's chief executive. In his more than four-month stint as the first CEO hired following the generation, Gautam has already completed significant responsibilities.
In the same way that climate change has impacted the water cycle globally, it has also impacted the Upper Tamakoshi's snowmelt, which has an impact on generation. Upper Tamakoshi Hydropower Limited must pay over $1 billion in fines to the NEA as a result of this.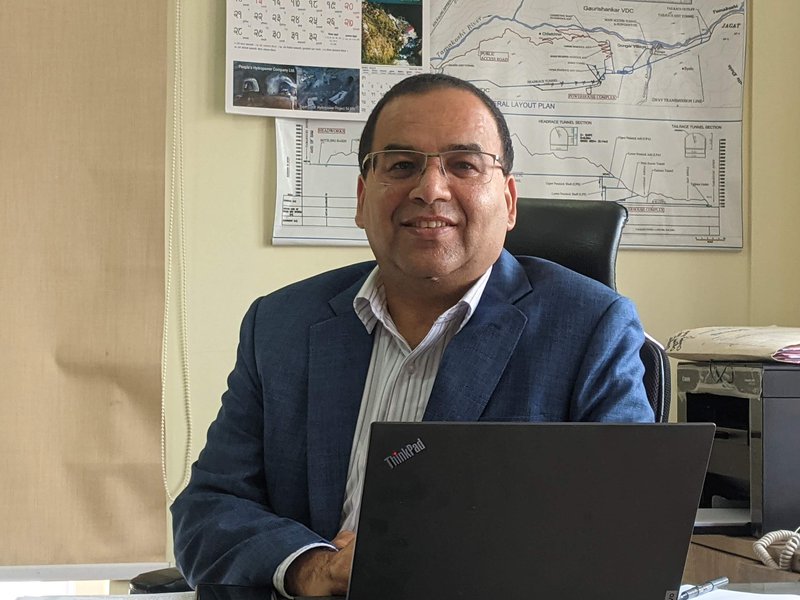 Despite all of these challenges, CEO Gautam has persevered and driven all of the remaining work to completion. The first of these tasks is to distribute the appropriate shares among the stockholders and neighborhood.
CEO Gautam has finally stated that the business will issue the right share after multiple rounds of board meetings, discussions with the Security Board of Nepal, and persuading the board of directors, which is chaired by NEA MD Kul Man Ghising.
The company is going to issue 105.9 million rightful shares from September 4(18th Bhadra). The business is prepared to issue rights shares in a 1:1 ratio to its shareholder members. However, promoters companies have already paid their share total amounting 5.4 billion rupees.
The company announced that it is getting ready to offer shares after receiving approval from the Nepal Securities Board and the Electricity Regulatory Commission. A right share issuance totaling 10.59 billion rupees is currently scheduled by the company. The sales manager for issuing and distributing the company's shares is Sunrise Capital Limited. Members who are shareholders may apply through October 7th.
According to the company, the money raised following the issuance of legitimate shares and the revenue from the Upper Tamakosi Hydroelectric Power Station would be used to fund 20 MW Rollwalling as well.
Out of total share, Nepal Electricity Authority NEA has 41%, Nepal Telecom 6%, Citizen Investment Fund 2% of, and National Insurance Corporation 2%. Similar to this, 10% of Dolakha district residents, 15% public, and 24% of Employees Provident Fund.
"Thanks to strong backing and clear direction from chairman Kul Man Ghising, I have been pushing all the reforms agenda to turn company attractive to public. My board members are supportive," said CEO Gautam.
CEO Gautam still has a lot of work to do to turn the company into a successful and appealing investment for shareholders, despite the fact that he is steadily eliminating the challenges.