Prime Minister Pushpa Kamal Dahal Prachanda has claimed that the rest of the peace process is at the stage of completion. Addressing the 78th General Assembly of the United Nations, Prachanda informed that the work of finishing the rest of the peace process is on the government's main agenda.
"My main political agenda is to complete the remaining work of transitional justice. We are nearing the stage of bringing our unique peace process to its logical conclusion. A related amendment bill has been submitted to the Parliament as part of the homework to finalize the rest of the work of transitional justice while maintaining the balance between peace, justice and reparation," said Prachanda
He said that the bill prepared through extensive consultation is victim-centric and recognizes compensation as a right of victims, Nepal has presented a rare example by transforming armed conflict into peace.
He said that the transformation from centuries-old feudal monarchy to democratic republican system and multi-party democratic politics will ensure the participation of all sections of Nepali society.
PM Prachanda added that though there is still some work to be done in the peace process, the constitution has been issued with a guarantee to strengthen the global recognition of human rights, participatory democracy, periodic elections, inclusive proportional representation, complete freedom of the press, independent judiciary and the rule of law.
"The state of equality and inclusiveness in Nepal is very good due to the fact that 41 percent of women's representation has been achieved at the local level and the constitutional provision that at least 33 percent of women should be represented in the provincial assembly and the federal parliament," said Prachanda in his address.
In his earlier address in high level meeting , prime Minister Pushpa Kamal Dahal Prachanda said that Nepal is effortful to strengthen its public health architecture.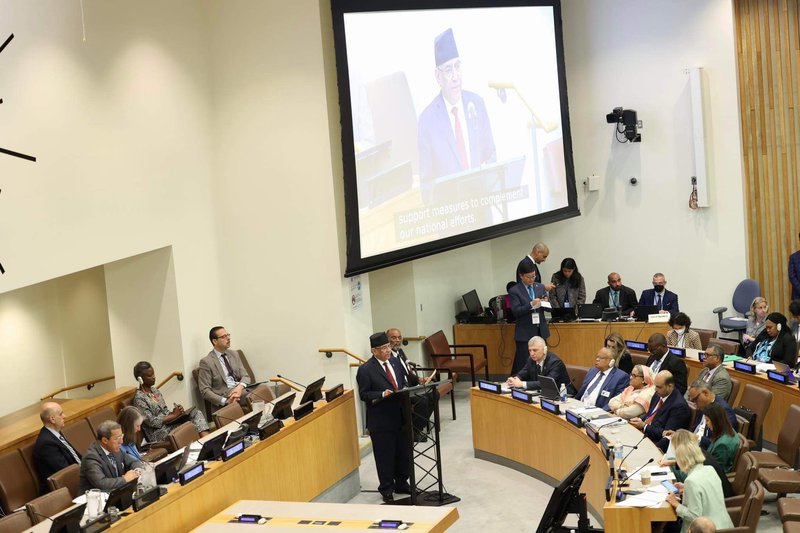 Increased investments in health infrastructure made during the pandemic have augmented our national capacity, said PM Prachanda at the high level meeting on 'Pandemic Prevention, Preparedness and Response' at United Nations General Assembly.
The world is moving ahead in the phase of post-pandemic recovery & revival. But the road to recovery is not uniform. The poorer ones are struggling hard to catch up with the pace.
"We need to work in solidarity together with matching provision of more financial & human resources," said PM Prachanda.
Multi-stakeholder, multi-sectoral, and the whole of society approach to pandemic prevention and response is necessary.
"We need a robust, resilient, and effective global health architecture for health emergency preparedness, response, and resilience," said PM Prachanda