CG President Binod Kumar Chaudhary addressed the 178 AGM of Ceylon Chamber of Commerce in Sri Lankan capital Colombo. Invited as a Chief guest on 178th AGM, Chaudhary said that the paradigm of entrepreneurship has changed.
Chaudhary, who is Nepal's first billionaire and the only one from the Himalayan republic to be listed on Forbes Magazine's billionaire's list was the Chief Guest of the 178th Annual General Meeting of the Ceylon Chamber of Commerce.
Chaudhary led CG Corp|Global Chaudhary Group is a conglomerate comprising over 80 businesses spread across 5 continents and 30 countries including US, Africa, Dubai, Maldives, Sri Lanka, Thailand, India and China. He is a global player in FMCG and is the brain behind Wai Wai, the iconic brand from CG, which has earned him the sobriquet 'Noodle King'
Chaudhary, who has proved that an entrepreneur can do business in Nepal and still emerge as a billionaire, contrary to the popular perception, has controlling shares in the largest bank in his country and own stakes in numerous hotel investments, Joint ventures and brands like Taj, Alila, Fern, Radisson and the ultimate destination wellness 'The Farm at San Benito.
An avid trekker and a fitness enthusiast, Chaudhari, who is also a philanthropist currently functions as the President Emeritus of Confederation of Nepalese Industries.
The acclaimed businessman has been a Member of Constituent Assembly of Nepal, has been the President of Federation of Nepalese Chambers of Commerce & Industry and had played a role at the World Economic Forum's Global Leader for Tomorrow.
"We Need To Learn From History But Not Get Stuck There"
 By Binod Chaudhari
I am humbled and consider it a privilege to share my thoughts with the decision makers and the Captains of the Industry, as you celebrate 178 years of service to your membership and the Country, as one of the oldest and most respected Chambers in the world. As the Former Chairman of Federation of Nepalese Chambers of Commerce and Industries and Founder President of the Confederation of Nepalese Industries, my involvement with the Ceylon Chamber goes back many decades. My relationship with Sri Lankan community goes beyond business. It is a personal bond and an association that is akin to being a part of a family. I am proud to have been embraced by this gentle and wonderful country and its citizens who have welcomed me with open arms, offering great friendship and affection.
I recall having signed an agreement between Federation of Nepalese Chambers of Commerce and Industry and Ceylon Chamber of Commerce in 1993 when I was the Federation Chairman. Likewise in 2003 we signed the protocol of partnership between the Ceylon Chamber and Confederation of Nepalese Industries, of which I am the still the President Emeritus. I recall with immense fondness Tilak De Zoysa, the then president who I consider not only as my best friend here and partner but also a true statesman and ambassador of Sri Lanka. We are honored to have him as our Chairman for CG Corp Global, Sri Lanka.
He has always stood by our side and orchestrated tactfully and concluded successfully many deals for CG Corp Global. Without his continued support and stewardship, CG Corp Sri Lanka would not be able to stand where it is today. I have a great sense of admiration for your Chamber for producing leaders of this stature. I have come across many senior businessmen from Sri Lanka – including Ken Balendra;  in the past and current leadership of the Chamber, and many leaders from the conglomerates of Sri Lanka including my partners  Hiran Coorey,  Sanjeev Gardiner and Vish Govindswamy for whom I have deep respect for business leaders, and for their great sense of dignity, values, and ethics that they demonstrate in the way they do businesses.
We have gathered here this evening to talk business. We are here to have an outlook for tomorrow. That outlook stems from an overview of today. What is happening today?
Of course, we need to learn from history but not get stuck there. Because we all know what was important yesterday does not hold much relevance now. Looking back 20 years, we see the predominance of traditional manufacturing industries. The capital-centric traditional industries such as textile, jute, sugar, and steel used to rule the market. Those days are gone.
If we look at our neighbor India, the Singhanias and Modis who were the iconic big houses of post-independence India and who used to dominate the market are not in the scene anymore. Industries that we never heard of before have appeared – industries based on the internet, telecom, and financial services – from Infosys to Wipro, from Sunil Bharti Mittal to Dipak Parekh and Aroon Purie. The whole canvas of business houses has changed. We now have the dominance of technology-based, information-based industries.
The paradigm of entrepreneurship has changed. Trendy YouTubers are compelling traditional television broadcasters to rethink their survival, teenage Instagram stars are becoming case studies for marketing gurus, and online media are forcing the shutdown of newspapers. I suspect that the day is not far when the social media will wipe out the traditional media.
We are going through disruptive changes. Let us look at a few new businesses.
Uber — the biggest taxi service in the world, which does not own a single car
Airbnb — the biggest online hotelier with the maximum number of rooms, which does not even have a single hotel of its own
Alibaba – the biggest e-trading platform, which does not have a single factory or warehouse of its own
There are a few things in common among them.
First, they rely on modern technology. They use the recent internet-based tools. Geographical and political boundaries do not deter them from doing business.
Second, they connect people who need the product with people who have the product and are willing to sell. They provide a forum where the service provider and recipient come together.
Third, they prioritize convenience of the consumers. Today, consumers are far more intelligent than ever. These businesses understand what inconveniences the consumers are facing and provide solutions to them.
 To be an entrepreneur, we need two things: an innovative idea and a strong will to execute. It does not matter what citizenship or passport you carry. The national boundaries no longer hold any relevance if your willpower is strong enough. If you see around the world all the disruptive ventures have started with one innovative idea and with the strong willpower of one person.
Let me tell you two stories to explain it. First is the story of a Chinese village. A boy was born in Hangzhou, in the south-eastern part of China.
With a lot of hardship, he finished his school. He failed the college entrance twice. In the third attempt, he got admission to the college. After finishing college, he applied for jobs and was rejected 30 times! The international chain of KFC had opened some vacancies in his home city. 24 people had applied, of which 23 got the job. This boy was the single one to be rejected!
At last he got a job as an English teacher with a pay of USD12 a month. He got a chance to visit the U.S. in 1995 as a translator. There, at the age of 31, he first touched a computer. His first internet search was for 'beer'. But to his dismay, he could not find any result for Chinese beer. He realized that China needed an internet company to market its products. But he had no money on him. He told people his idea of starting an internet-based business platform, but everybody laughed. After some serious effort, he gathered 17 friends, somehow convinced them, and started an online marketplace with the name of Alibaba. Then he realized there was no internet payment system in China. So he also started Alipay.
Now Jack Ma needs no introduction. This dejected village boy rose to become the richest man in China in a little more than a decade's time.
The second story is the story of Jan Koum, the co-founder, and developer of WhatsApp. His family used to live in a small village outside Kiev in Ukraine. Due to the political situation at home, his family had to leave the country and take refuge in the U.S.
 At the age of 16, Jan used to sweep the floors of a grocery store to make ends meet. He went to school and read borrowed books.He got a job at Yahoo for some time. He also applied for a job at Facebook but was rejected.
He saw apps of Apple smartphone and something clicked in his mind. He got an idea of developing an app that would connect all smartphone users. Very soon, this idea becomes his passion. He dreamt of developing such a perfect app that would enable the users to connect through live chat, push messaging, and file sharing. In 2009, he created WhatsApp. And in 2014, he shocked the world by selling WhatsApp to Facebook for USD 19 billion. Can you imagine? The same company did not trust him for a job a few years back!
Jack Ma and Jan Koum had one thing in common — an innovative idea and a strong commitment to follow it.
Now allow me to add a third story here. This story belongs to one simple guy from Nepal.
There was a boy born in a traditional family; his grandfather brought clothes from India, and his father modernized it by importing clothes and consumer items from Japan. He started a disco. But then that was not away from business — others went to the disco for entertainment, the boy was thinking business.
He was planning to go there to study chartered accountancy. But then his father had a heart ailment. So the boy had no choice but to take over father's business when he was just 18.
Father's office was small — just two desks. The son had a choice of staying at the counter of the department store his father had started, or become an entrepreneur himself. He chose the second option.
Father had some basic preparations for opening up a biscuit factory and the son took that up. He thought of the Indian market – the Northeast of India that had been a long-neglected part – even Indian corporate houses were reluctant to go there due to the perpetual problems there ever since 1947. Very soon it was established in NE India. It was at a time when the biscuit market was completely dominated by Britannia and Parlé.
The boy, now a young man, opened a flour mill at Biratnagar in eastern Nepal to support the biscuit factory. But not even 10 percent of that was consumed on biscuits. So he started looking for a product where he could use flour.
Father used to go to Japan and Korea to buy clothes for the department store. The son started doing that after his illness. But soon, in less than a year, he was fed up with clothes. So he thought of importing Suzuki cars and National Panasonic Electronics to Nepal from Japan. It was at a time when even Maruti had not started in India. This gave him the courage to think out of the box and try new ideas.
One fine day many years later, world renowned Forbes magazine listed him as a billionaire – the first and the only one so far from the Himalayan nation.
The enterprise he established now has a presence in 30 countries worldwide, with 136 companies and 76 brands. The group has a workforce of 10,000-strong professionals globally. The Group, CG Corp Global, now provides world-class services and products in hotels and resorts, education, realty, FMCG, financial services, consumer electronics, cement, hydropower. It is the first and only multinational of Nepal.
You may have already guessed who that boy was. Yes, he is no other than yours truly!
The story of Wai Wai
I used to travel a lot for business. Thai flights had started to Kathmandu. Wealthy Nepali people used to go to Bangkok. They brought back Thai instant noodles. I saw cartons of noodles at the airport baggage belt.
This is how I got the idea of starting noodles plant –  I took the next flight, met with the company and pleaded to do a joint venture. They said no. Then I requested – let's do the collaboration. They said no.
Now it is produced in over a dozen plants in India and Nepal. We are expanding factories in Europe, Middle East, Africa, and Asia.
Today we have 27% share of Indian noodle market. Wai Wai sells 2.3 billion packets worldwide, which is 2.3 % of the global noodle market.
 CG's Multinational Beginnings
It was Nepal, my homeland. In the year 1996, a wave of unprecedented political violence started in the country. We had won a multiparty democracy through the People's Movement in 1990, and just six years later, when the economy was showing signs of improvement, the Maoist insurgency started. The insurgency lasted 10 years and killed over 17,000 people. Not only did it kill the people, it also killed the enthusiasm of the people in a new-found democracy, stymied foreign direct investment, and destroyed the overall business spirit. Hundreds of flourishing industries had to be closed down. Youths from villages started flying away to the Gulf in search of manual labor. Agricultural lands started becoming barren and the once crop-rich country started importing foodstuff from India.
During such a difficult situation we had, on one hand, the challenge and aspirations to continue and grow in Nepal, and at the same time make our first and only 120 acres private industrial park fully active and developed; and on the other hand, I had the dream to start the first Nepali multinational.
While I wanted to start a hotel with Taj in Nepal destiny brought me to Sri Lanka. This was a time when Sri Lanka was going through a serious phase of insurgency along with terrorism. I still recall this was around the time when nearly 26 aircraft were bombed in Colombo airport in 2001. Taj offered us to partner in Samudra when two-thirds of the hotel was closed and banks were ready to clamp down. I had a difficult choice to make. On one hand, there was an opportunity to participate as an equal partner with Tatas and Taj, and at the same time invest in the country I loved and was always passionate about; but it would also mean investing in a hotel project that was sure to be a protracted, if not losing proposition. It was then I remembered that Lee Kwan Yu visited Sri Lanka,  said — "If Singapore should follow any country in South Asia, it should be Sri Lanka and become like one."  That thought gave me courage and determination and I took the plunge. I am happy that we invested at that time and we continue to reinvest and upgrade even now to make the Taj Samudra into an iconic property which is arguably the best in Colombo.  We are delighted that we are part of a legacy that makes everyone proud in the hospitality space.
This JV with Taj, one of the most reputed names in the hospitality sector, evolved into many other destinations like the Maldives and Safari parks in India and Nepal and now in Phuket in Thailand and in Dubai. This gives us the distinction of being, arguably the largest partners of the Taj Group worldwide. We learned the hospitality business from our partners Taj and today, we are now on the path to having 200 hotels under our fold by 2020 under various brands and partners.
Why am I telling you all this? I have a point to make. As successful entrepreneurs yourself, this is not new to you as you have faced such challenging situations too.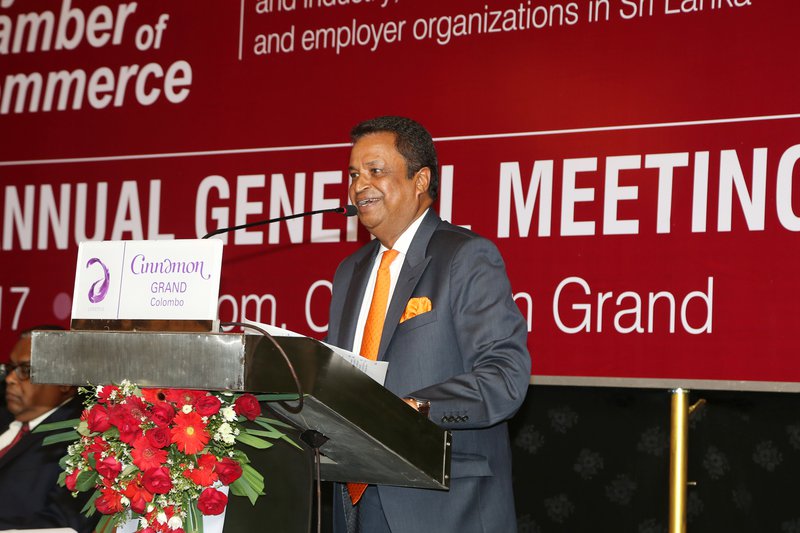 There is Opportunity in Every Crisis
We businessmen seek opportunity in crisis. We are entrepreneurs. We don't care about resources, we create our own resources. We lead, we don't passively follow! We convert crisis into opportunity. You cannot have the best environment all the time. If you have a strong will and an agile mind, you can surely turn it the other way round. All successful entrepreneurs have done it.
I started a business in Assam, in Northeast India where big corporate houses feared to go.  I set up factories and started whole new business operations there when people were scared just by the thought of going to that part of India.
Even today, we're setting up new hotels and Wai Wai plants in African countries such as Nigeria. Nobody would like to take the risk there. But that is not me. Without risk, life is boring.
With this, I would like to come back to where I started – my emotional and business ties with Sri Lanka.
Today I stand before you not just as another businessman from Nepal but somebody who is personally invested financially and, more important, emotionally in Sri Lanka and this is a choice I have made consciously. We at the Chaudhary Group and its transnational arm – CG Corp Global are working in Sri Lanka since the last two decades.
We invested in the leisure sector tourism, Jetwing and the Galle Face Hotels Group. Today CG Corp Global and its hospitality arm have invested in some of the finest properties in Sri Lanka like Taj Samudra, Jetwing, Vil Uyana, Seashells and Mandira Bungalows and together we have put the nation on the international tourism map. Today Sri Lanka is witnessing an economic resurgence and I can only say that I am delighted that the potential that I saw all those years ago is now coming to fruition.
We continue to grow under our JV Ceylon Hospitality Corp (CHC) in recreating the historic heritage and culture of the great civilization of Lanka by re-positioning the product one by one. The last one we opened was Zinc Journey Sigiriya with the famous Elle Kithigulla, and many others in the pipeline.
Not only in Sri Lanka, our company has forged a JV with my partner and friend Vashi and Sushil Mohinani to create a 400 room hotel in NYC. Tilak is providing leadership to this JV as well as being its Chairman. While talking about JV with Sri Lanka, I remember Vivenddrae of John Keels to jointly bid for Shangri-la Hotel in Delhi when it was being auctioned by ITDC some 20 years ago. This would have made every Sri Lankan and Nepalese proud to have flags flying in the capital of India.
My dear friends, before I share a few concluding thoughts, let me talk a little bit about social sustainability and philanthropy.
As businessmen, making money is important to us. But more important than that is – how we work with society in giving it back.  We cannot function in a vacuum. We have a big responsibility towards our society. We all need to fulfill that responsibility. Otherwise, our earning money will be useless.
For many of us, making money may be easy. But it is difficult using that money wisely toward helping our societies. Let us ask ourselves – do we want to be remembered as 'rich and mean businessmen' or 'rich and compassionate human beings'? We all know Bill Gates as the richest man in the world. But we equally know him for running a foundation – the Bill and Melinda Gates Foundation – that is doing so much on public health around the world. In India, we all know the Tatas for being one of the biggest conglomerates, but we remember them even better for their fantastic social service in the fields of cancer treatment.
It is for this reason that our own philanthropic arm – The Chaudhary Foundation — feels proud to have developed partnerships with the Bill and Melinda Gates Foundation, Tatas, and Jack Ma on our rebuilding initiatives after the devastating earthquake that struck Nepal in 2015. It gives me a tremendous sense of satisfaction to share that within a period of fewer than six months we built 3000 transitional homes and 40 school buildings after the earthquake. Now we are busy building permanent houses, developing model villages, giving technical training and running micro-enterprise programs for the benefit of the earthquake survivors. Our work has won accolades across the world, including a Forbes cover that listed us among the 40 Asian Heroes of Philanthropy.
I would like to conclude by sharing my few learnings and convictions about life and business.
Our world is going to be so compact, so technology-driven, so integrated, and so efficient that if you cannot catch up with the race, you will be out of the scene in no time.
There is no monopoly of any particular race or country in today's world. Technology is so dynamic. It keeps moving. You need to continuously reinvent yourselves with the changing technology.
Geography, age, gender, nationality, climate, society – nothing can stop you if you are really committed to excel.
Have the guts to take risks. As they say – taking no risk is the biggest risk! Without taking a risk, we are not going to reach anywhere. Come out of your comfort zones.
Capital is no more the biggest strength, but innovation and entrepreneurial initiatives are. You need to have an innovative mind and a fire in your belly to follow your dream. And you can change the world.
Being Nepal's only billionaire, people wonder if I ride a new Rolls Royce each day; if I travel around the world in my own private jet,… and so on.
When I face such questions, I simply smile. I am reminded of what my friend the great Warren Buffet told me, despite being one of the richest persons in the world, still, lives in a small 3-bedroom house in midtown Omaha. It is the house he bought 50 years ago after getting married. He says that he has everything he needs in that house. His house does not have a fence … He drives his own car everywhere and does not have a driver or security people around him …. He never travels by private jet, although he owns the world's largest private jet company.
The life of a businessman is much more complicated than a normal man's. In this floor today, most of us miss our lunches almost every day, most of us cannot go to sleep on time, most of us miss the precious time other people enjoy with their families and loved ones…
The point is, we cannot wait to relax and enjoy life. We need to pause every now and then and ask ourselves – "How much have we contributed toward making our worlds better?" We need to find happiness along the way, every day, every moment, here and now, for ourselves and for everybody around us!
Chaudhary is the Chairman of CG Corp Global. Excerpts of his statement delivered at 178th AGM of Ceylon Chamber of Commerce.