After three years of implementation in two districts Gorkha and Siraha, Ensuring Rights through Skills and Voice Project comes to end. Supported by European Union and implemented by British Council with the partnership of Nepal National Dalit Welfare Origination and Dalit Women Advancement Nepal, the program supported 1708 Dalit women of two districts.
"This project aims to improve the livelihood of dalit and ensuring their rights," said Badri Tiwari, project director.  The project aims to increase the participation of dalit women in decision making, to promote application of social accountability, improve dalit people status and stop the cast discrimination."
With the total budget of 43 million rupees, the project provided skill and entrepreneur training to the dalit women. The project also provided training to dalit women to improve capacity.
"The income of Dalit women has drastically increased after providing them skill training,"said Tiwari."We cannot claim that we had done everything but what we can say now that the status and livelihood of women has changed."
Andreas Roettger, Head of Corporation and Charge-de-Affairs of Delegation of the European Union to Nepal expressed his happiness over the successfully implementing the program targeting the poor and vulnerable community of Nepal.
Jim O'Neil, Acting Country Director, British Council Nepal Rhona Brown Head of Programs of British Council expressed satisfaction to implement the program for the benefit of poor Dalit women. Various other speakers including the stakeholders also took part in the discussion.
From the beneficiary Padma Maya Kami, Gorkha said, "I took entrepreneurship training in addition to seasonal farming training. I and fellow Dalit women always thought we would never be treated equal and we were unaware of the civil rights we were entitled to. Today the whole scenario has changed. Even people from non-Dalit community now treat us fairly and we are not only aware of our rights but we exercise them too. We feel empowered today."
Another beneficiary Geeta Pariyar, Gorkha said, "After receiving ERSVP's training on seasonal vegetable farming, my livelihood has changed for better. I started growing mushroom and in no time I started making good money. I was able to take responsibility for my children school fees and daily meal expenses.  This changed the way my family looked at me – I started becoming more vocal and more independent economically."
 The project aimed at combating the discrimination of the Dalit population in Siraha and Gorkha districts and to promote their access to economic, social and political rights –Ensuring Rights through Skills and Voice project is at its conclusion phase.
This European Union funded the project was jointly implemented by British Council Nepal, Association of Dalit Women Advancement of Nepal (ADWAN) and Nepal National Dalit Social Welfare Organization (NNDSWO).
According to a press release issued by the British Council, the overall goal of the project was to contribute to combating the discrimination of the Dalit population and to promote their access to economic, social and political rights. Its specific objectives were: to increase the participation of Dalit women (some disabled) in economic activities, and to build capacity of community groups, including Dalit Civil Society Organizations and Community Based Organizations and government organization working at local level to actively promote the economic, social and political rights of Dalit Women in Gorkha and Siraha districts of Nepal.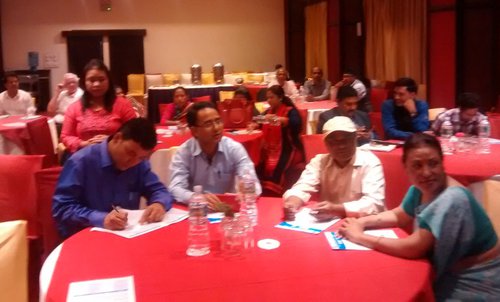 According to the press release, the project had 2 major components (a) Access to Skills (b) Access to Voice. The project conducted training in four different categories.
"The training includes vocational skill training Bamboo stool/rack making, seasonal/off-seasonal veg. farming, mushroom/flower/lapsi/grape/ginger production, poultry farming, goat rearing, bamboo handicraft, pickle/detergent powder/dalmoth/bhujiya/incense stick/candle/laha-churi making training) ," said  Tiwari.
The program has also entrepreneurship skill development. It uses social accountability tools which include public hearing, participatory planning, and budgeting, community score card, the right to information, legal treatment against caste discrimination 4. Strategic planning workshop Impact of the project.
"Out of 1700 Dalit women who were given training on skills development, 62.31 percent of them have succeeded to earn approximately between NPR 1,000-30,000 monthly, in addition to what they had been making. This has enabled them further to improve their living standards by providing them better access to nutrition, education, health, clothing, homes and sanitary facilities," said Tiwari
The project has helped women from the Dalit community to come together to voice against the social practices of untouchability and caste discrimination. As a result, such discriminatory behaviors in their society have lowered remarkably.
Dalits living in the catchment area of these two districts now have better access to the facilities they are entitled to by government and non-government organizations. Some of the examples to this are their access to their birth certificate, marriage certificate, fair treatment in health posts and old-age allowance.
From the training given to the officials of government and non-government organizations on the public hearing, tools of social accountability, budgeting and rights to information, their working style and atmosphere has now become more accountable and transparent.
There has been an improvement of participation and involvement of Dalit women in local politics, social and financial institutions such as ward citizen forum, citizen awareness center and cooperatives, different user groups, community school management committee etc.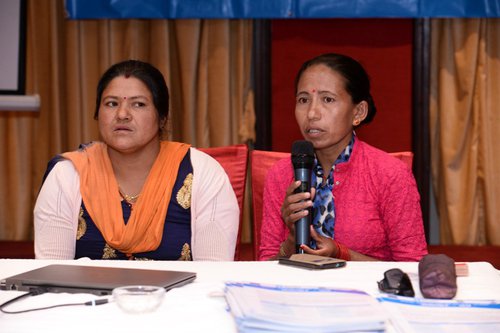 "After the project, we have learned many lessons. They include to improve the quality of life of marginalized community people through improvement of their economic, social and political status, the duration of this project was short and generally, lifespan of this type of project should be at least of 4 years," said Tiwari.
Considering the economic state of the nation and mushrooming private sector in Nepal, it would be relatively more result oriented to create an opportunity for financially deprived and marginalized people in self-employment rather in wage employment. Various studies carried out in this field also support this learning.
"To achieve high employability, skill training should be followed by entrepreneurship skills, business counseling, and business start-up support. In absence of capital and entrepreneurship knowledge, individuals may be pushed back to poverty and unemployment. The majority of financial institutions do not have access to the village and do not lend loan to the financially challenged people without collateral which is the major constraint to transfer skill/knowledge of beneficiary into micro-enterprise and employment," said Tiwari.
The design of this project comprising of skills and rights components and focused to Dalit people were highly appreciated by the beneficiaries, stakeholders, and evaluators. The prime factor of making any project success depends mainly on the design of the project based on target people's need and interest.
See Also Video