Singh Mahal, a Palace in Thapathali, was a historically significant palace constructed by the grandfather of Jung Bahadur Rana, who dreamt to be a prime minister from here.
Built by Nayan Singh Thapa, father of Mathbar Singh Thapa, once the power center of Thapa and Rana clans, Singh Mahal was at risk of losing its entire historical legacy during the ownership of Nepal's central bank.
As glory and happiness return on completing the restoration of the Malla Palace in Patan, the decision taken by the Kathmandu Metropolitan City to demolish the historical Bagh Durbar came as another shocking event for conservationists.
With the demolition of Dharahara in the earthquake of 2015 and other palaces around Sundhara, the last reminiscence of Bhimsen Thapa clan will be finally removed and turned into another concrete jungle.
At a time when conservationists have been launching campaigns to save the palaces built in different periods, the KMC set out to demolish the historical Bagh Durbar. In the 1950's, revolutionaries led by Nepali Congress and communists destroyed many statues and palaces in a hate campaign against the Ranas. In the recent times, Maoist revolutionaries destroyed the remaining sites from Nepal's unification era.
Despite vehement campaign against the demolition of the palaces built after the unification of Nepal by conservationist Chanda Rana, the government is permitting the demolition one after another.
Kathmandu Metropolitan's Joint Spokesperson at KMC Numaraj Dhakal said the latest study report, which was submitted two weeks ago, stated that Bagh Durbar was badly damaged and could not be retrofitted.  "We had been waiting for this report and finally KMC has decided to demolish the building," Dhakal was quoted by the Himalayan Times as saying. He further added that Bagh Durbar's demolition will begin in one-and-a-half months.
Built by Amar Singh Thapa, the palace was occupied by various rulers and individuals. Ministry of Finance was also located here for quite a long time before it was handed over to Kathmandu Metropolitan City. Then mayor Keshab Staphit took the initiative to make this building the property of KMC.
On taking his oath of office, KMC Mayor Bidya Sundar Shakya declared he would construct a new office building for KMC.
A study had also been conducted on whether Bagh Durbar could be used after retrofitting as engineers had found the building unsafe in the aftermath of the April 2015 earthquake. According to KMC, the new building will be constructed in three years. However, cost estimates and design of the new building have not yet been prepared.
Earlier, KMC and the Department of Archaeology had differences over whether or not to demolish the historic Bagh Durbar, which is located to the west of Tundikhel.
History of Bagh Durbar
Bagh Durbar is a Thapa Palace in Kathmandu. The palace complex, located in south and west of the Dharahara and Tundikhel, incorporates an impressive and vast array of courtyards, gardens, and buildings.
Initially, the palace was owned by Amar Singh Thapa Sardar of Bagale Thapa dynasty and his descendants but later was occupied by Royals of Shah dynasty, and still later by the government of Nepal.
According to Wikipedia, the palace complex lay in the heart of Kathmandu, to the north of the Bagmati River. The history of the palace is closely linked with the history of Nepal and its rulers.
In Royal courtier family Thapa, some lived in Thapathali Durbar complex and some lived towards the west of the Sundhara in today's place of Bagh Durbar. Initially, a palace was built by Amar Singh Thapa (Sanu) and later a new palace was built and used by Bhimsen Thapa due to its close proximity to the Royal Hanuman Dhoka Palace in 1805 AD.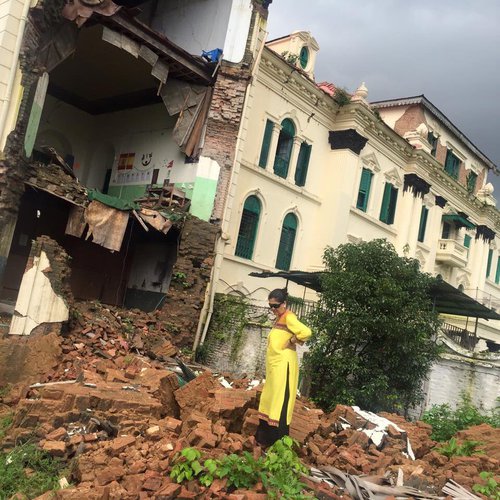 After the fall of Bhimsen Thapa in 1837, this entire palace complex was seized by Government of Nepal but was later occupied by Prime Minister Mathabarsingh Thapa as a descendant and member of Bagale Thapa clan. Bag Durbar was again seized  by Government of Nepal in 1845 after the murder of Mathabarsingh Thapa by his own nephew Jung Bahadur Rana.
After nationalization of Bag Durbar, this property was given to Royal Prince Upendra Bir Bikram Shah in 1854. However, he was kept under house arrest for Treason. Upon his death, in 1896 BS, this palace was inherited by his son Bhupetindra Bikram Shah and again to Bhupitendra's son Mohan Bikram.
As Mohan Bikram was RamRaj (Zamindar of Ram Nagar estate), he started living in Ramnagar, India. Thus, his property was used by his step brother Chandra Bikram Shah. Both Mohan Bikram and Chandra Bikram were the Son-In-Laws of Prime Minister Juddha Shumsher JBR, so their property was eventually captured by Juddha and his son Hari Shumsher.
With the decision to demolish the Bagh Dubar, this story has come to end.