Kathmandu's contemporary art scene fights against the barriers that constrain it. For a city that is hardly on any foreign artist's radar, there's a diverse and emerging scene to be discovered.

On an unsuspecting side street that looks like any other, sits a little wooden door with a sign that reads "Park gallery". Kathmandu's oldest contemporary art gallery dates back to 1970 and serves as a metaphor for the city's scene. The gallery's building isn't attention grabbing nor does it provide a wow-factor once entered. There's an interesting blend of contemporary and traditional work with an Asian flare but the space lacks intentionality and feels basic to say the least. It looks like this is all that's on offer and many pundits wouldn't be blamed for getting out the door after five minutes. Although, if you leave this room into the courtyard behind you will be treated to a small but superb warehouse space that showcases work from both Nepal and the rest of Asia.
This feels like Kathmandu's art scene. At first sight there's little but if you're willing to scratch beneath the surface you'll find plenty to wet your appetite.
A similar space has been hidden within the elegant, neoclassical Baber Mahal Complex since 1997. Siddartha Art Gallery has hosted more than three hundred and fifteen exhibitions including contemporary, installation and traditional artwork since its inception. It's a platform for both Nepalese and international artists and hosts pieces from all over the world in a beautiful, modish setup. It adds a graceful touch to the city's culture and scene.
A third space is the large Taragoan Museum, located in the old rooms of Nepalese social activist Angur Baba Joshi's architecturally iconic Taragoan Hostel. The bright, airy rooms are spread throughout several redbrick tunnels, with huge glass windows and was designed by the famed Austrian architect Carl Pruscha. The hostel was converted into a gallery and museum with its opening in 2013 by ArunSarag and his wife. The Taragoan's purpose is to document foreign artists, photographers, and architect's contributions to Nepalese culture in the second half of the 20th Century. Scattered throughout are numerous exhibitions honouring artists from Britain, Germany, the Czech Republic and many other nations. Whilst it may not do enough to promote Nepalese artists it provides variation to the scene, which can only be a good thing. 
As you walk between the small, unique buildings, catching glimpses of the Himalayas and listening to birds sing, you can't deny that this beautiful place brings value to Kathmandu's scene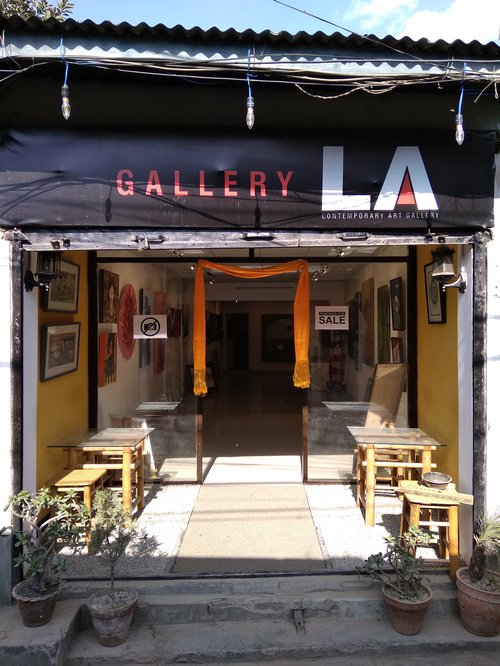 Despite Kathmandu having impressive spaces for art fans, it's a city that has many problems for developing a scene. The established art galleries on show feel very inaccessible to most Nepali citizens. According to GSDRC, over 11% of Nepalis in Kathmandu live in abject poverty and a recent World Bank report states that "45 per cent of the population today constitutes a vulnerable group that is either perilously close to falling back into poverty or otherwise struggling to cement their economic security". The nature of Nepal's socioeconomic makeup ensures that its art scene cannot grow if it continues to approach art in a conventional manner. Its reputable galleries are hidden away and only accessible to those who are searching and have money for them. The Taragoan is exclusively in English which highlights the elitist nature of the scene.
Luckily, Kathmandu is gaining spaces that are thinking outside the box to beat this problem. LA Gallery is one space that is striving to bring something new to the city.
Sitting in the bustling back streets behind the BoudhaStuppa, the gallery stands out with its inviting, chic design. Opened in September 2017 by artists AnishaMaharian and LaxmanBazra Lama, it lacks any arrogance and promises to open contemporary art up to new audiences. The gallery is used to show art that fails to sell at the city's major exhibitions and therefore provides a new platform for artists. Laxman stresses the most important aspect of the gallery is that it offers a space for buyers to find creators. LA is easy to stumble across and personally connects people within the scene. This sense of community helps to develop the scene and doesn't close it off to an elite few in the same way the more established galleries are guilty of.
It's not all been easy for Laxman and Maharian though. Since they have been trying to tap into a market new to art, they have found Nepalese people are not totally in tune with the concept of contemporary artworks. Laxman says that people will often think the gallery's art is not "art" as it does not depict landscapes, as is commonly associated with traditional Nepalese artwork. This preconception of what art should be isproblem for developing the scene.
Aditya Aryal (one of the curators of the thought-provoking Kaalo.101 gallery) is a street artist who voices a similar concern for Kathmandu's scene. While Nepal's laws are conducive to street art, he claims that Nepali culture in many ways isn't. He tells of his friendswho've tried to ink social and political commentary, only to receive death threats. This is because Nepali people do not see art as a means to comment but a way to produce something aesthetic and beautiful, he says. Therefore, Kathmandu's street art, and perhaps art in general, is constricted with what it can do.
Nepal's street art may not be able to grapple with issues like Europe's can but it still provides one of the greatest contributions to Kathmandu's scene. Aryal points out that anyone can appreciate street art "no matter their class". This is extremely important in a city with as vicious a wealth divide as Kathmandu's and means that artists like Aryal could be the future for really developing art here.
In the noughties the street art scene was almost exclusively composed of foreign artists who would come for work before quickly leaving.
These days there is an established number of Nepalese artists based in the city. The collective 'Art Lab' resides in Kathmandu, organising events, painting murals and inviting foreign artists for collaborations. An increasing amount of street artists are being commissioned to paint businesses and homes, which shows a shift in people's perspectives of street art. If these artists have changed people's perception of art here, maybe they can help Nepali people respect commentary through art too.
Kathmandu's poverty and perceptions of art are hurdles for Nepal's artists to manoeuvre.  Yet young and exciting artists who tackle these issues do exist and seem to be succeeding. The city's blend of traditional approaches to selling art and its more experimental new kids on the block ensures the scene here is emerging and varied enough topromise an exciting horizon.