Although many other Asian Airlines, which were started along with Nepal Airlines, have made many strides adding a number of new aircraft, Nepal Airlines is also gradually improving its number of new aircraft in its fleet.
This year the situation of celebration of 60 years was different. With four new aircraft with two A330 new wide body for international flight, Nepal Airlines Corporation also announces to purchase new aircrafts for domestic use.
Under the leadership of MD Sugat Ratna Kansakar, Nepal Airline has already created history. Whether it is coincidence or timing, young and energetic young politician Rabindra Adhikary is leading the Ministry.
With the arrival of the first wide body A330-200 aircraft, Nepalese officials gave a warm welcome. Minister for Culture, Tourism and Civil Aviation Rabindra Adhikary, secretary and other senior officials from the Ministry and NAC were present at the airport.
Addressing the program, Minister Adhikary said that this is the historic occasion for Nepal. He said that two new wide-body aircraft will help to increase the number of Nepal Airlines destinations and brining more tourists.
"Since we are planning to bring 2 million tourists in 2020, the role of NAC will be important. Now the time has come for NAC management to prove that NAC's management is strong and efficient," said Adhikary.
As the Airlines celebrates its 60th anniversary, there is enough reason to rejoice for the national flag carrier. With the induction of first wide body A320 aircraft on June 29, Nepal Airlines Corporation has moved a march forward.
Managing director of Nepal Airlines Sugat Ratna Kansakar, a man behind the modernization of Nepal Airlines, said that NAC management is very professional and organized to operate these new fleets. "We have to work hard with a commitment that we can do it."
Established in July, 1958, Royal Nepal Airlines Corporation (RNAC) was to be Nepal's first airline. Starting its operation with first aircraft Douglas DC-3 to serve domestic routes and a handful of destinations in India, the airline acquired its first jet aircraft, Boeing 727s, in 1972 and Boeing 757 in 1988.
Breaking all its history, Nepal Airlines Corporation acquired two new A320 in 2015. After securing two new A320, the performance of NAC has drastically increased and national flag carrier is now bringing a high number of visitors to Nepal.
Thanks to the efforts of MD of Nepal Airlines Corporation (NAC) Sugat Kansakar and his team, NAC has secured New Airbus A330-200 (9N-ALY ANNAPURNA) in schedule. According to a source in Nepal Airlines, another wide body is likely to arrive in the end of July. NAC got its new two Airbus 320 in 2015.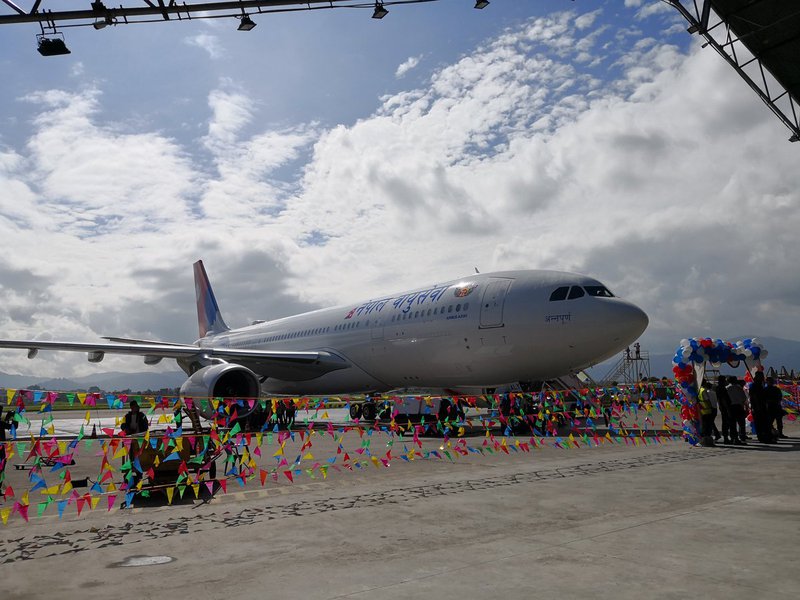 At a time when Nepal is planning to bring two million tourists in 2020, NAC's two wide body aircraft can play a very important role. Following the arrival of two A330-200, NAC has already announced its flight to Japan, South Korea and China, that means, Nepal is likely to receive a large number of tourists.
Similarly, NAC will also increase its flight frequency to Indian cities. This is also likely to add more tourists.
With the arrival of two wide body aircraft, NAC will have five aircraft for international flights, including ageing B757.