With the controversy spread, Malaysian is Unlikely To Take any Decision On Nepalese Migrant Workers . Malaysian Government has indicated that they are unlikely to take any decision immediately on the issue regarding hiring of Nepalese workers. According to acting Nepalese ambassador to Kumar Raj Kharel, Malaysian authorities have expressed this views during their meeting.
Malasyian Labor Ministry's authorities have told Nepalese officials that there need to discuss Nepalese issue with all different departments including immigration of Malaysia.
According to a news report published in Deshsanchar.com, Both sides have agreed that the current impasse on Nepalese workers send a wrong message. However, it is uncertain when the recruitment of Nepalese workers will resume.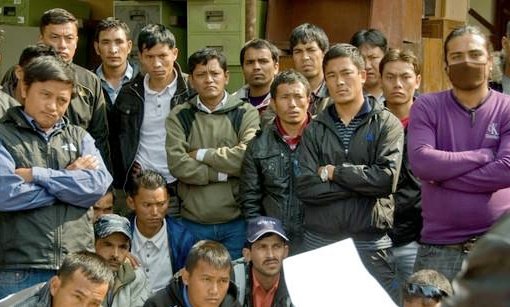 Meantime, former deputy prime minister Datuk Seri Dr Ahmad Zahid Hamidi says he is ready to face the Malaysian Anti-Corruption Commission (MACC) investigation over allegations his family members had profited from the trafficking of Nepali migrant workers.
"I am ready to be investigated and show evidence that I was not involved or had abused my power or that any of my family members were involved," he told reporters at Parliament lobby on Monday (July 23).
Dr Ahmad Zahid was responding to claims in a report by Nepali Times that high ranking politicians in Nepal and former Malaysian officials and their family members were involved in looting more than RM185mil over the past five years from vulnerable Nepali migrant workers desperate to seek work in Malaysia.
The reported stated that Dr Ahmad Zahid, who was also the Home Minister then, had outsourced a private company, Ultra Kirana Sdn Bhd, which required Nepali migrant workers to apply for work visas through a Kathmandu-based affiliate, Malaysia VLN Nepal.
This included making it mandatory for all Nepali migrants to undergo a biometric health screening test via Bestinet Sdn Bhd, a company run by Dr Ahmad Zahid's brother-in-law Amin Abdul Nor.
The report also claimed that Dr Ahmad Zahid's brother Abdul Hakim Hamidi and former Natural Resources and Environment Minister Tan Sri Azmi Khalid also reportedly owned shares in Bestinet.
Asked on his family links to Bestinet, Dr Ahmad Zahid said that none of his sisters or family members were involved. "I am not involved and it's not mine. "It belongs to a Bangladeshi," he claimed.
He denied having a brother-in-law named Amin or having any shares in Bestinet, and said the company had been in business before he assumed the post of Home Minister.
He added that he was not afraid of being investigated by the MACC.
Source: Star.com