Prime Minister Sheikh Hasina has secured her third consecutive term with a landslide victory, Bangladesh's Election Commission said on Monday.
Ms Hasina's ruling party has so far won 281 of the 350 parliamentary seats, surpassing its previous election wins.
The opposition has condemned what it called a "farcical" election, marred by violence and claims of intimidation and vote rigging.
They won just seven seats and have demanded a new vote.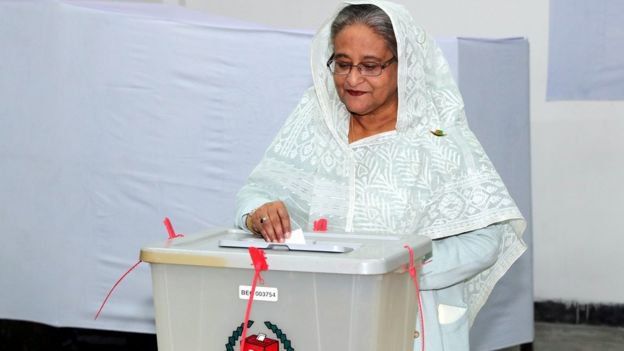 "We urge the election commission to void this farcical result immediately," opposition leader Kamal Hossain said.
"We are demanding that a fresh election is held under a neutral government as early as possible."
The Bangladesh Election Commission told Reuters news agency that it had heard vote-rigging allegations from "across the country" and would investigate.
At least 17 people have been killed in clashes between ruling party supporters and the opposition.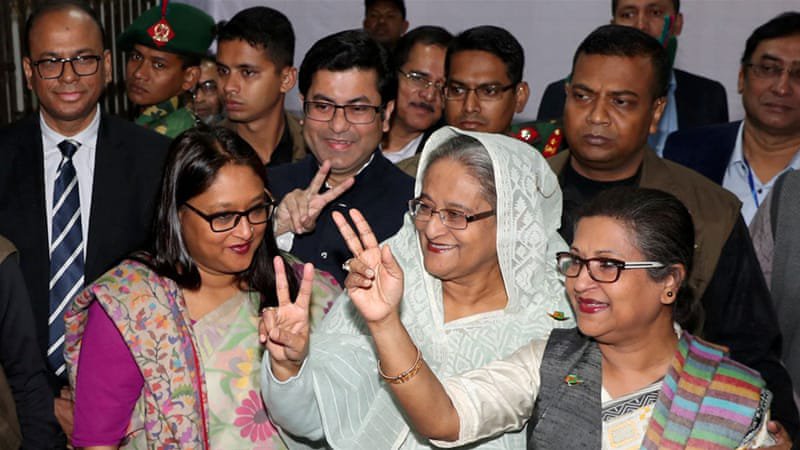 What are the allegations?
Sheikh Hasina's Awami League has run Bangladesh since 2009, but one of the leading opposition parties has accused it of using stuffed ballot boxes.
A spokesman for the Bangladesh National Party (BNP) alleged there were "irregularities" in 221 of the 300 seats being contested.
Soon before polls opened, a BBC correspondent saw filled ballot boxes at a polling centre in the port city of Chittagong. The presiding officer declined to comment.
Only ruling party polling agents were present at that and several other polling centres in the second-largest city of the country. At least 47 candidates from the main opposition alliance withdrew before polling closed, alleging vote rigging and intimidation.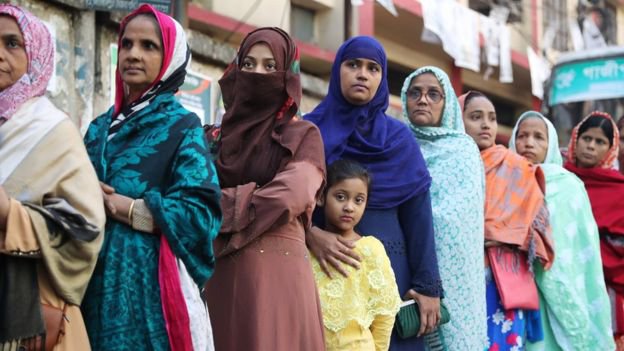 Activists, observers and the opposition party had warned that the vote would not be fair, but the governing party accused the opposition of peddling false claims.
Ms Hasina told on Friday: "On the one hand, they are placing allegations. On the other hand, they are attacking our party workers, leaders. That is the tragedy in this country."
Courtesy: BBC