As he expressed his strong determination before deciding to go for the second kidney transplant that he would return with strength and more vigor to head the country, Prime Minister Oli is returning in the complex political circus next week.
In his battle for life, Prime Minister Oli has emerged a winner. Prime Minister
Oli, who underwent a second kidney transplant at Tribhuvan University Teaching Hospital, is likely to be discharged from the hospital.
However, even after he is discharged from the hospital, he should avoid taking excessive workload. He should also avoid traveling for the time being and should not attend any meeting, according to doctors.
Till now, no one has been allowed to meet the prime minister. "We have not allowed anyone to meet him except doctors and the medical team involved in his treatment," doctors said.
Prime Minister Oli has overcome the health challenges by taking a risk to go for the second transplant. He has to face the next round of political battles in the party to retain his leadership. The issue of the recommendation of Bam Dev Gautam for the nomination as a National Assembly member and many other pertinent issues are waiting for resolution there.
"Following the transplant, Prime Minister Oli is now fit to work and fit to carry out his duty. His transplanted kidney has started to function normally and his health is normal," said Dr. Prem Krishna Khadga, executive director of TUTH. "PM Oli is feeling better and has started moving around the room. His health is better and his vital signs are sound. The blood parameters are also good."
Despite everything looking good, nothing seems to be right on the political front. After prime minister Oli's admission to the hospital, there is a lull in the ruling party and the main opposition has maintained silence.
As Nepal's politics is unpredictable, one cannot rule out the state as a lull before the storm. The decision taken by prime minister Oli to recall Nepalese ambassador to China Leelamani Paudyal on the ground of his closeness with co-chair Pushpa Kamal Dahal and not recommending the name of Bam Dev Gautam to National Assembly has widened the differences.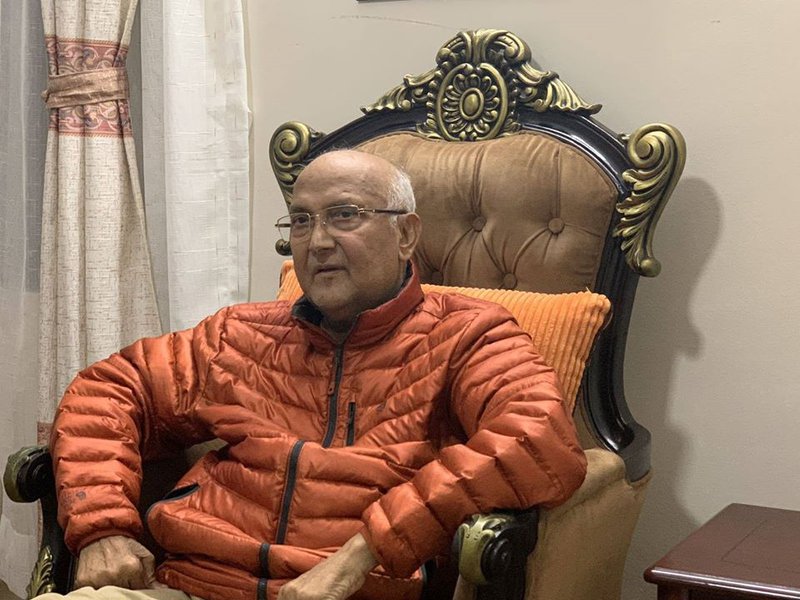 Even if he is discharged from hospital, PM Oli will be in no position to interact with his colleagues for a few more weeks.
"We are keeping him for a few more days. If we discharge him early, he will not be able to take sufficient rest. He will become busy. There is a risk of transmission of infections in kidney transplanted patients. We, therefore, are keeping him for a few more days to prevent all such possible infections," said Dr. Khadga.
In terms of health, prime minister Oli, who is known for playing the political game, will be alright within a few more weeks. However, his political battle will further intensify given the growing inner rifts among the party leaders.
The whole political course will now determine how Prime Minister Oli tactfully handles politics and its players in the party. If handled properly, the existing lull will go in his favor. If the lull turns into a storm, it will take a devastating course.
Photo: Bishnu Rimal Twitter Page