Confucius, a Chinese philosopher, once said that progress is possible at any pace as long as one does not stop. Gyanendra Ratna Tuladhar, the proprietor of Nepal Wool House, emphasizes the significance of how ongoing business is important, just as it is said in this quotation.
Tuladhar believes that there will always be new technology, procedures, and standards to follow in any field. He currently runs his inherited firm alongside his son. "If my knowledge is stagnant, I could be left behind by competitors who keep abreast of business trends," said Tuladhar.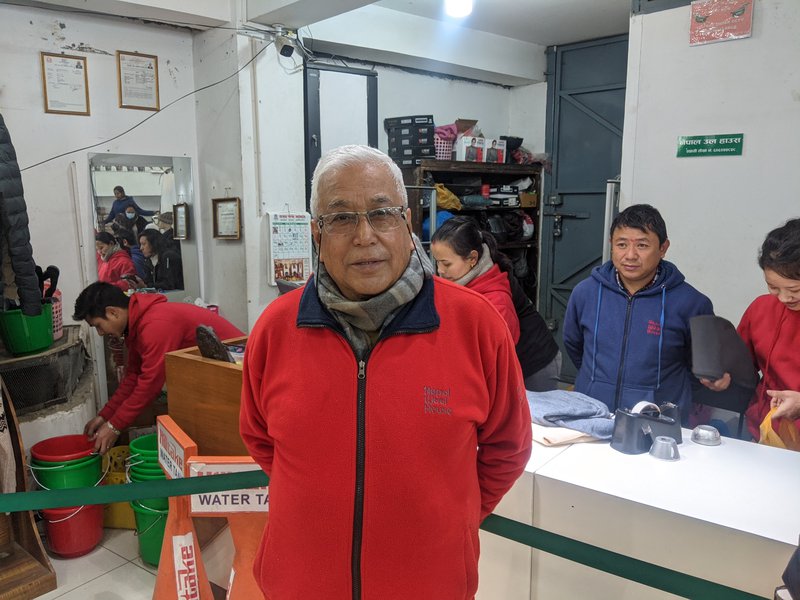 The corporate empire of Tuladhar is likewise progressively changing. "We don't need a high-profit margin; all we need is enough to keep the business afloat. Applying concepts to running a business means that even if growth is slowing down, one shouldn't become alarmed. One need not be concerned as long as their business is not declining or losing money.
Confucius held sway over the Newar community of Kathmandu Valley, who had monopolized and dominated Trans-Himalayan Trade for generations due to their shared border and cultural heritage with China.
Numerous things in Newari culture are well known. They are renowned for their ideology as well as their business acumen and abilities. Gyanendra Ratna Tuladhar and his son Dipesh Ratna Tuladhar exhibit this in both their demeanor and language.
They both treat their customers with kindness and humility. As the senior Tuladhar looks after the men's clothing on the first floor, the junior Tuladhar is in charge of the women's clothing.
Business is about hearing, seeing, doing, and comprehending, as it is repeated. seeing what one's rivals are doing, keeping one's ears to the ground, and acting. One can detect this between father and son.
One would observe a middle-aged man in his smile lingering around the Nepal Wool House's new modern business complex in Bhotahiti, a historic market in Kathmandu, chatting with the clients. My wife assisted my father in glancing at the cash register when he was feeling lonely. She is no longer involved with the company anymore.
The owner, Gyanendra Ratna Tuladhar, who is 68 years old, has been interacting with kindness while speaking in a very humble and quiet tone. Tuladhar's daughter, who is married to the son of the former chief justice Kahayan Man Srestha, is currently seeking managerial positions at the Nidan Hospital while his son has been maintaining the family company.
Following its development plan, Nepal Wool House built a seven-story structure that increased a small plot of land from 500 square meters to more than 5000. The company has already automated its financial activities. Even though Nepal Wool, a business that is approximately 90 years old, employs professional personnel and has large showcases to present its items like all readymade shops around the globe, it has yet to maintain some traditions. SomeWool, a brand almost 90 years old, has still retained certain traditions. Some old customers are still asking for discounts.
Tuladhar graduated with a Bachelor of Commerce, attended St. Xavier School from 1958 to 1966, and earned his Senior Cambridge diploma.
Like Father Like Son
Dipesh Ratna Tuladhar, a Xaverian, has been helping his father with the business for the past five years. Young Tuladhar, an industrial engineering graduate, does business with clients similarly to his father.
Dipesh attended business school in the Philippines to get his Master in Business Administration after earning his degree in Industrial Engineering (MBA). Tuladhar, who holds an academic degree, is a genuine gentleman and a modest individual who is gradually taking over the family business. "My son has helped me with my business. His assistance has greatly aided me in growing the company, according to Tuladhar.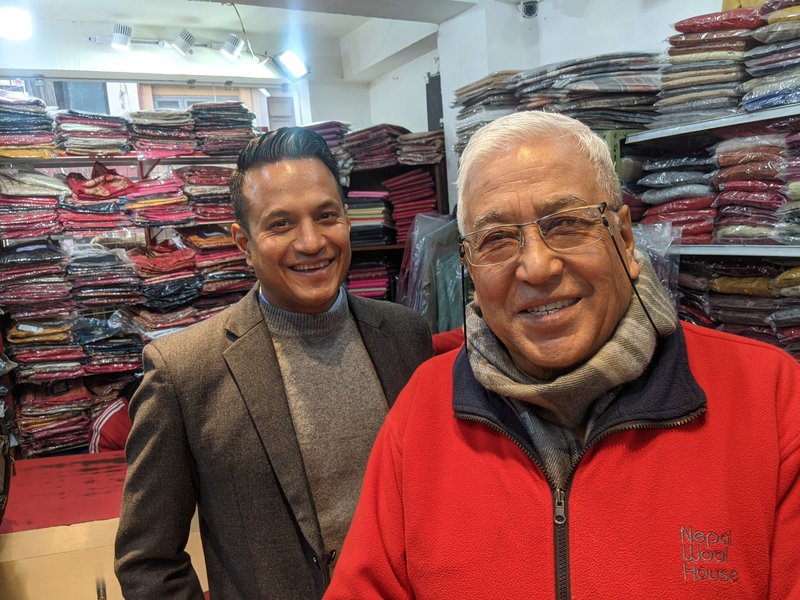 When asked why a person with a Senior Cambridge degree from a Convent School chooses to work for an established company? "Education is not a barrier to doing this or that. Education teaches students to conduct themselves fairly while maintaining their integrity, according to Senior Tuladhar. Dipesh, the son, concurs with his father.
On a query whose ideal will prevail more since you and your son represent two generations? "I would rather argue that our business strategy is built on both conventional and modern visions as well as old intuition," said Tuladhar.
History of Nepal Wool House History
Nearly 81 years ago, in 1914, my father opened the shop. Our family has been in business for a long time, and they once had a little store in Ason, the valley's former commercial center. In 1956, we relocated to Bhotahity. Bhotahity was then on the outskirts of the city. To make it a business hub beside Ason, my late father Dibya Ratna Tuladhar upgraded it, according to Tuladhar. Nepal Wool House offers goods for men, women, and children as well as yarn imported from throughout the globe. In 1960, my father was the first to pay taxes. My father complied with King Mahendr's request to pay a tax of Rs. 100. It was a big money then.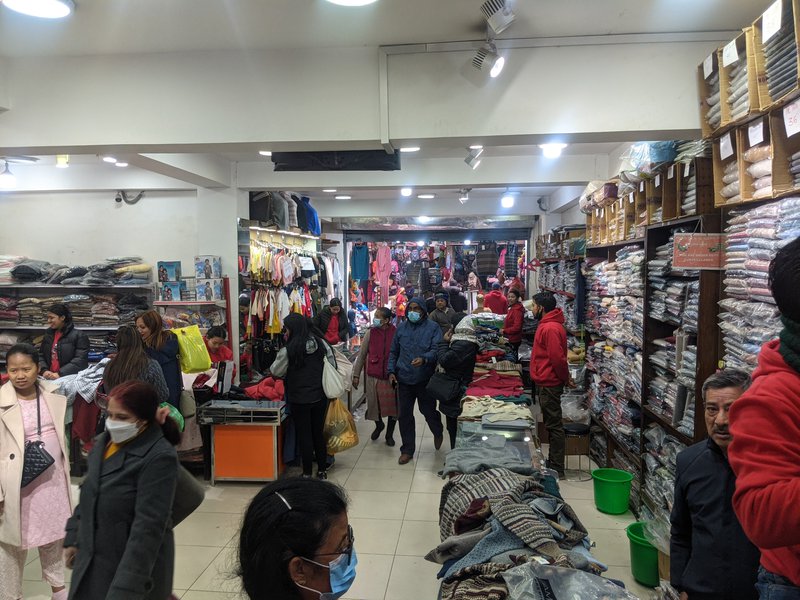 My father was a strong advocate for modernization. Because of this, St. Xavier accepted me rather than sending me to a nearby school. Numerous societal reforms and achievements were also launched by my father. My father registered as a trade house with His Majesty's Government of Nepal when we moved here in 1956. My father made a significant contribution to society's modernization. Early on, my father received assistance in the business from my brother Manik RatnaTuladhar.
How was it named Nepal Wool House?
Babu Deb Raj Malhotra, the father of Dipak Malhotra and an old friend of my father, proposed the name Nepal Wool House when my father and brother were deciding on a name for the store. My father considered the advice and gave Nepal Wool House its current name. My father worked extremely hard to build the Nepal Wool House brand for yarn and winter clothing. He creates an orderly market in Bhotahity. My father preferred change and was a modernizer. In Kathmandu, he was the first to install tube lights. He brought it over from Calcutta. People back then utilized low-voltage bulbs, and the lights were red. In 1960, my father employed neon light to provide brighter lighting.
Why did your father select wool while Tuladhars are renowned for their skill in copper and brass crafts?
The continuation of business is the reason. Also, a legacy is this. It was started by my dad. This company is successful. We are the people who are addicted to this business. By broadening and growing the firm, we have offered our quality and interest. It has been updated by us. We have been putting all of our work into adapting to the new competitive climate rather than trying to survive in tradition. One of the reasons Nepal Wool House is there is because of this.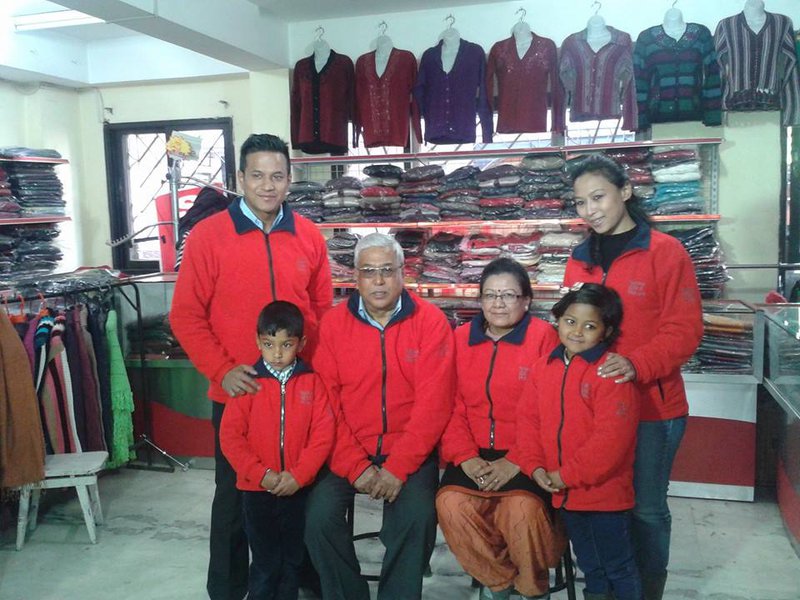 You also entered the tourism industry. The reason why?
I decided to launch a tourism firm with investments in the hotel sector while my father and brother were considering this venture. But because we opened a hotel in a rented home, it did not succeed. I advise individuals against launching a business in a rented space. That was the nature of my lesion. The business endeavor failed. I hold no one accountable for this. In Lazimpat, my hotel was rated two stars..
How is your son doing?
My two siblings are married. My son Dipesh Ratna, who attended St. Xavier as well, graduated from Surat, India, with a bachelor's degree in industrial engineering. Later, he competed for MBA from the Philippines.
He began in the industry at first, but subsequently, he entered the business. Dipesh inspired me to further modernize the company, just as I had pushed my father to do.
How does your business currently look?
Innovation, modernization, diversity, and expansion have all been accomplished. Our business has grown from a 500–600 sq ft floor to over 10,000 sq ft. We now have 60 employees, up from the previous 12 employees. Of sure, we made a profit, but we also gave back to the nation and society by creating jobs and paying taxes. In addition, we have been working on a variety of projects under the umbrella of social corporate responsibility, including enhancing our neighborhood.
Why did your father decide to start this business?
The goal of our father's business was to establish a name in ready-made clothing, wool sweaters, and winter wear. We had a modest store that sold knit and woolen clothing only. Now, we have expanded our business to include ready-to-wear for men, women, and kids. We have a seasonal winter and wear a variety of clothing.
What proportion of local and imported materials was used in the store at the time?
We import everything from many nations, not just wool. Currently, we import 35% of our products from India. 30 percent local production and 35 percent from China. We used to import the complete product from India in the past. China has been introducing products to the market for the past 20 years.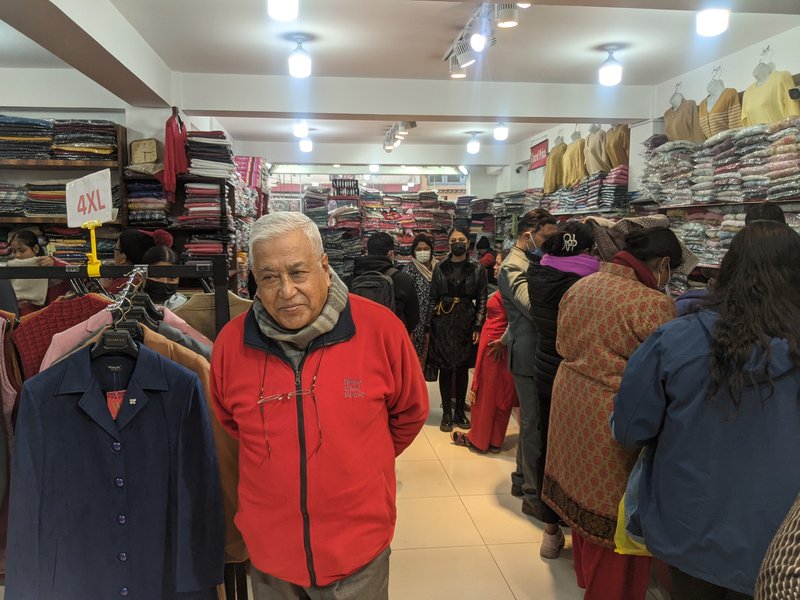 You participate in the Nepal Chamber of Commerce as well. What have you personally encountered?
In the Chamber, I held several honorary roles for 44 years. I'm no longer active there because all of my former buddies have retired. My son is progressively taking my place in the chamber.
How many of your classmates are company owners?
Only two of us, including me and my other colleague Mahendra Lal Pradhan from Narayanghat, have joined the business. He also hails from an established Newari business family. I graduated from the 1966 batch, along with hydro-engineer and former minister Dipak Gyawali, Tashi Tenzing, and Balram Shrestha and others.
How do you perceive the clients?
There are still a lot of our previous clients. Since Nepal Wool House is a well-known brand, we receive visitors from all walks of life. We still have a reputable brand of winter clothing. Customers are our god, and it is because of their support that we can grow. As a result, we always make a minimum profit in our business. Increasing turnover is more important to us than profit margin. Some company groups have minimal turnover and significant profit margins. Our clientele frequently changes.
How about your wife?
Hira Keshari, my wife, used to help me. She is now primarily limited to household duties.
Right now, how busy are you?
My kid is assuming the duty of doing more than 80% of the job. But I come here every day and remain to encourage him. The handover procedure is still in progress. He is developing his buying and selling abilities. These two elements are crucial to our business. I continue to have a say in what I buy and sell.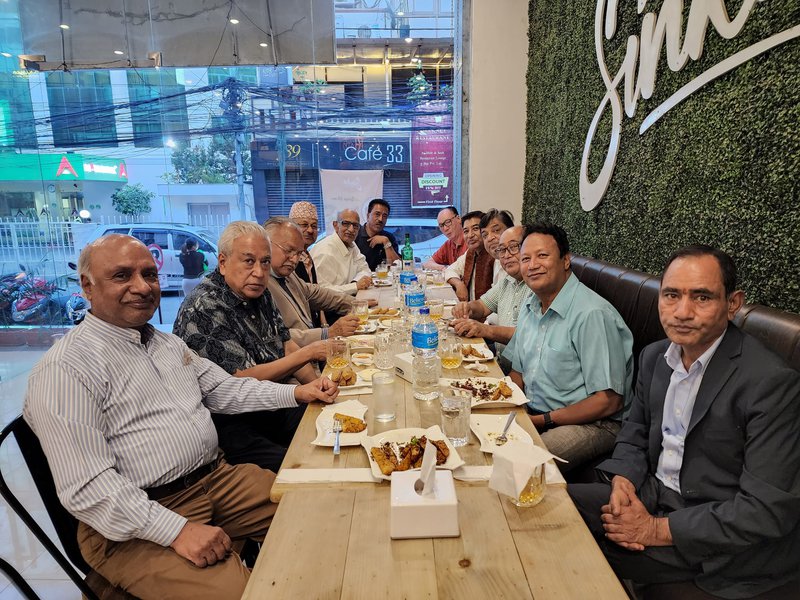 Describe your grandchildren.
The grandchildren I have are too young. My 12-year-old and 7-year-old grandsons come here. They are still young, therefore nothing can be said at this time. You cannot make them follow your decision now or in the future. The children must be given freedom. We must also steer clear of the kids. We won't be able to force them, but we will be able to guide them. They need to be reminded that this enterprise is 81 years old.
How do you intend to maintain your business in a cutthroat environment?
As stated, competing is fighting competition. Our establishment has a unique personality that sets it apart from retail malls. Shopping at department stores is impersonal, but at our store, customer attention is our top priority. This is the key to our advantage. We gave our employees good customer service training. Along with ours, several of our relatives' businesses are prospering. Tulahdars are highly known for their ready-to-wear brands, including Jujubhai Garment, Tamrakar House, and Peanuts, to name a few. In the floating market, other people come and go. Thank God, we are still alive.