Himalaya Sumsher Rana retired from Nepal's civil service and UNDP a long time ago. However, he never grew tired of participating in all reform activities as an active member of civil society.
The first Governor of Nepal Rastra Bank, first finance secretary, and imminent civil society leader, Himalaya Sumsher JBR, who died at the age of 95, urged youth to remain vigilant in order to preserve the essence of democracy.
Rana was always active and attended all important programs aimed at reforming the political process, the economy, and society. Rana, who also spent time with family playing with great grandsons and daughters, had a strong sense of patriotism. However, he always prioritizes social works.
Rana, the great-great grandson of reformist and liberal Rana Prime Minister Dev Sumsher, has not only witnessed Nepal's transformation but has also transformed himself to the modern context, using social media such as Facebook to express himself.
Himalaya Sumsher Rana, who retired 44 years ago and has a family of twenty-three members (sons, daughters, daughter in laws, son in laws, grandchildren, and great grandchildren), is still very enthusiastic about participating in activities organized by civil service, civil society organizations, and professional organizations. He used to play golf until about a year ago.
As a common and humble person, all bureaucrats, from the lowest to the highest ranking officers, hold him in high regard. Nepal Rastra Bank decided to observe three days of mourning following his death.
For over nine decades, Rana has witnessed the ups and downs of Nepal's civil service. From the civil service of a unitary state, where he laid the groundwork for the first annual fiscal budget, to the current federal structure, Rana claims he has witnessed increasing corruption, instability, and irresponsibility.
Rana has witnessed many natural disasters, including the Great Earthquake of 1934, World War II, and pandemics, and has firsthand knowledge of the COVID-19 pandemic. Rana, who was born on January 8, 1928, laid the groundwork for Nepal's institutions, including the Central Bank and the Ministry of Finance.
Rana founded Himalayan Bank, the country's first private bank, as well as Gorkha Brewery, which brews and markets high-quality Danish beer, Tuborg and Carlsberg, in the country. It was one of Nepal's largest foreign joint venture companies at the time. Himalayan Bank and Gorkha Brewery are both examples of successful joint ventures in Nepal.
Himalaya Sumsher, born into a Rana family with liberal views, has always followed the path of political liberalism. Himalaya Shumsher Rana faced a kind of personal exile after late King Mahendra dismantled the multi-party system in 1960. He was away from home for over 25 years, serving with the United Nations.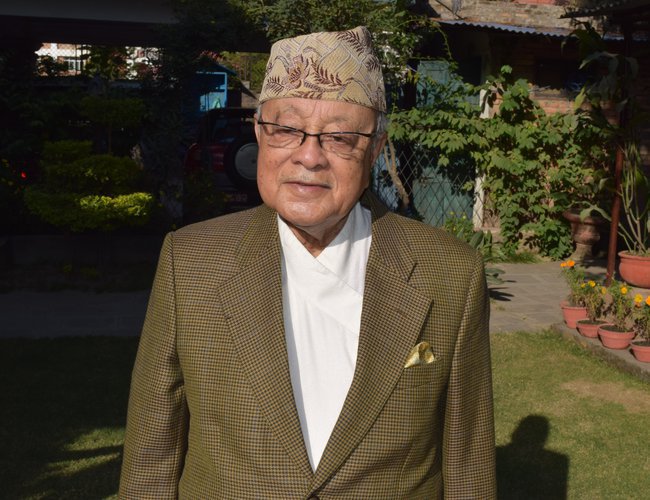 He participated in the 1950 revolution, supporting Subarna Sumsher Rana and signing the letter that ended the autocratic regime. Rana also witnessed changes in the civil service and political system.
He took part in peace talks with Maoists. As a member of civil society, he continues to play an active role in defending democracy and bringing peace and economic prosperity to the country.
Rana was a living history of over 90 years, witnessing Nepal's transformation and change. He was still active at the age of 95. On April 22, 1956, he was appointed as Nepal's first governor.
He also founded the Himalaya Bank and served as Nepal's first Finance Secretary.
He has recently been active as a prominent leader of Nepal's civil society movement. He has also been proactive in advocating for free, fair, and impartial elections as the founder of the General Election Observation Committee (GEOC).
According to Rana's son-in-law, Nepali Congress leader Sunil Bahadur Thapa, the former governor died around 6:30 a.m. while receiving treatment at Kathmandu's Norvic Hospital.
From 1962 to 1986, Rana served as a United Nations Development Programme representative in various countries. Rana, a former finance secretary, founded Himalayan Bank.
In recognition of his contributions, he was awarded The Order of Japan (The Order of the Rising Sun, Gold and Silver Star).
Despite the fact that none of his family members are currently in regular civil service, his sons and daughters have been serving the country in various capacities. Pratima Pande, his elder daughter, has worked in heritage conservation and the promotion of Nepal's legacy and identity, becoming involved in organizations such as the Nepal Britain Society and the Honorary Consul General of Italy. Similarly, his elder son Ashoke Rana has served the country as the CEO of Himalayan Bank, a reputable Nepalese bank.
Another daughter, Sangeeta Thapa, is well-known around the world for her contributions to the promotion of Nepalese art. Thapa, the Director and Curator of Siddhartha Art Gallery, is globalizing Nepalese art. His younger son, Amar Rana, who worked for Nepal TV for almost a year, has contributed through his own work.
His two sons, Ashoke Sumsher Rana and Amar Sumsher Rana, and two daughters, Pratima Pande and Sangeeta Thapa, survive him. People will remember him for his contribution as a voice for social, political, and economic reform, even though he died at the age of 96.