Prime Minister Pushpa Kamal Dahal 'Prachanda' has said that common minimum program was a document of national consensus.
Addressing a special ceremony held at the Office of the Prime Minister and the Council of Ministers to make the priorities and common minimum program of the coalition government public today, Prime Minister Prachanda said that it is a document of national consensus as it includes the opinions of the parties that were part of the government before.
"It can be called a common minimum common program of national consensus. This is a program common for all," he said, while pledging that everyone concerned including the Prime Minister, the Ministers and civil administration would implement the common policies and programs honestly.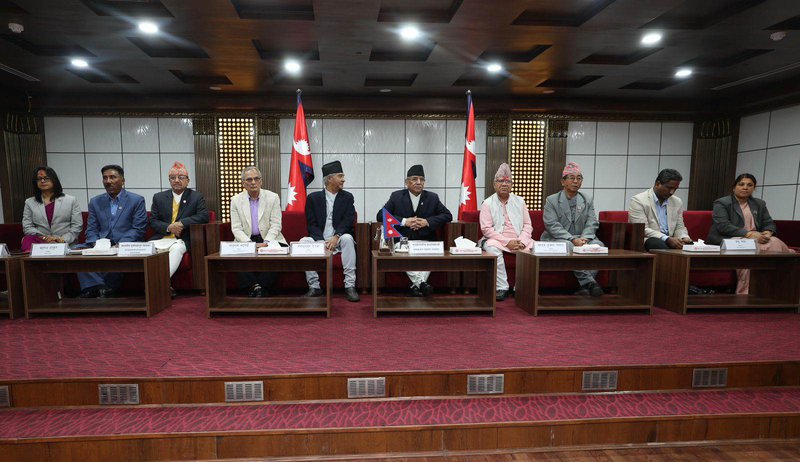 On the occasion, Prime Minister Prachanda also expressed his commitment to fulfill the great hope and expectations that people have over the government.
Mentioning that the coalition government had also decided on similar policies and programs in the past and implemented them, the Prime Minister expressed his determination that the public policies and programs will also be fully implemented this time as well. "All good aspects of the policy priorities of the seven political parties in the previous coalition have been organized and modified in the current policy and program", he said quoting RSS.
Prime Minister 'Prachanda' has said that the priorities and Common Minimum Programme (CPM) of the ruling coalition unveiled today is practically applicable.
The PM further added that responsibility of the government, all parties and government officials has increased to translated the vision of the CMP into action.
The PM viewed that this CPM is marginally developed version of the preceding CPMs.
CPM is unveiled at the time when Nepal has been going through distinct juncture of economic, social and political transformation, PM Prachanda said.