To improve bilateral relations, the head of the diplomatic mission in the nation plays a crucial role. Felicity Volk, the Australian ambassador to Nepal, has demonstrated how tighter ties can be forged between two countries.
Even though Australia and Nepal have had diplomatic relations for a very long time and that Australia opened a mission there about 30 years ago, the embassy has only been present physically.
Felicity Volk, the ambassador, altered it over the past two years. Ambassador Volk has highlighted Australian initiatives by visiting several areas of Nepal and talking with locals.
Tim Watts, an assistant minister from Australia, recently paid a visit, which was quite crucial in this context. The Nepalese foreign ministry had made every step to ensure the success of this tour because they were aware of the significance and importance of the visit. The previous trip to Australia by foreign minister Bharat Raj Paudyal also influenced the current visit of an Australian minister to Nepal.
During his tour to Nepal, Australian Assistant Minister Watts also had meetings with the foreign minister N.P. Saud, the prime minister Pushpa Kamal Dahal Prachanda, and other top officials. The visit of Australian Assistant Minister Watts will significantly improve bilateral ties between the two nations.
Watts, the assistant minister for foreign affairs for Australia, visited NP Saud, the minister of foreign affairs, in his office this afternoon. The Australian Assistant Minister and Nepali officials worked on the Nepal-Australia relationship, according to the Ministry of Foreign Affairs. On how to further boost bilateral and international collaboration, they traded opinions.
According to the Australian Embassy, Assistant Minister Watts expressed Australia's gratitude for the close partnership it has enjoyed with Nepal throughout the course of 63 years of diplomatic ties and strong people-to-people ties.
"Australia and Nepal are close friends, and for over 60 years connections between people have underpinned our relationship. I was glad to meet with Foreign Minister Narayan Prakash Saud today, to talk about how we can strengthen the Nepal-Australia relationship even further," tweets Tim Watts, Australian Assistant Minister for Foreign Affairs.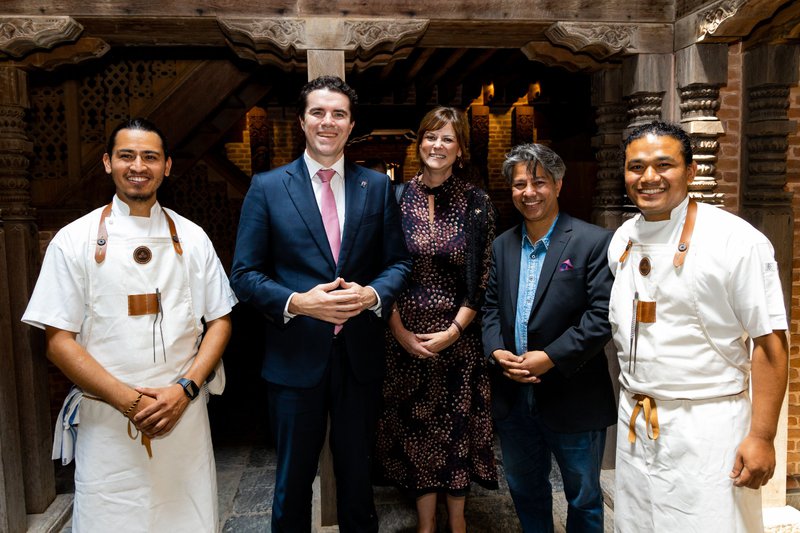 Between May 16 and 18, 2023, Australian Assistant Foreign Minister Watts made a three-day trip to Nepal to highlight Australia's strong and expanding links to that country and to look into potential avenues for future cooperation.
This visit is significant since the Nepali community in Australia is currently the fastest-growing immigrant group with a population of almost 130,000 people.
A 13th-century wooden tunala (temple strut) from Ratneshwar Temple in Sulima Square was given to the locals in a ceremony held at Patan Museum as the highlight of Watts' visit. The Art Gallery of New South Wales has given this significant relic back to Nepal, and its director, Dr. Michael Brand, will attend the handover.
He also went to Kathmandu University, where he heard about the current collaborations with Australian universities and discussed potential future relationships in the fields of mining, green hydrogen, and running student exchange programs.
He went to BioVac Nepal, a cutting-edge facility for the manufacturing of animal vaccines and diagnostic tests thanks to Australian technology transfer and academic and scientific collaboration.
He also paid a visit to the Tilganga Institute of Ophthalmology (TIO), which was founded as a center for excellence in eye care by Dr. Sanduk Ruit and Dr. Fred Hollows of Australia.
The Fred Hollows Foundation and the Australian Government have sponsored TIO's efforts to provide eye care services in Nepal for the past 30 years, as well as the production of intraocular lenses for both domestic and international distribution.
In order to highlight the intimate cultural ties between Australian Hindu and Buddhist communities and Pashupatinath and Bouddhanath, assistant minister Watts visited these sacred and historic places.
He spoke with Nepali graduates of Australian universities who had gone on to excel in their vocations. Watts presented the Himalayan Rescue Association with a portable altitude chamber produced in Australia for the Pheriche Medical Outpost and Everest ER Clinic at Everest Base Camp.