After the first successful test at the Green Hydrogen Lab of Kathmandu University, the communities of Badigad Rural Municipality, located 300 kilometers west of the capital Kathmandu in the remote Baglung district, have agreed to participate in the pilot program for utilizing green hydrogen energy for cooking. This marks a significant milestone for the Hydrogen Empowered Hydroelectric Grid (HyHEG) Project.
The project has already selected 15 households in Badigad for community-level piloting. Dilli Ghimire, Director of the Nepal Energy Foundation (NEF), a key partner in the project, notes that the possible development of community-level cooking fuel derived from hydrogen has been raised with the successful lab experiment.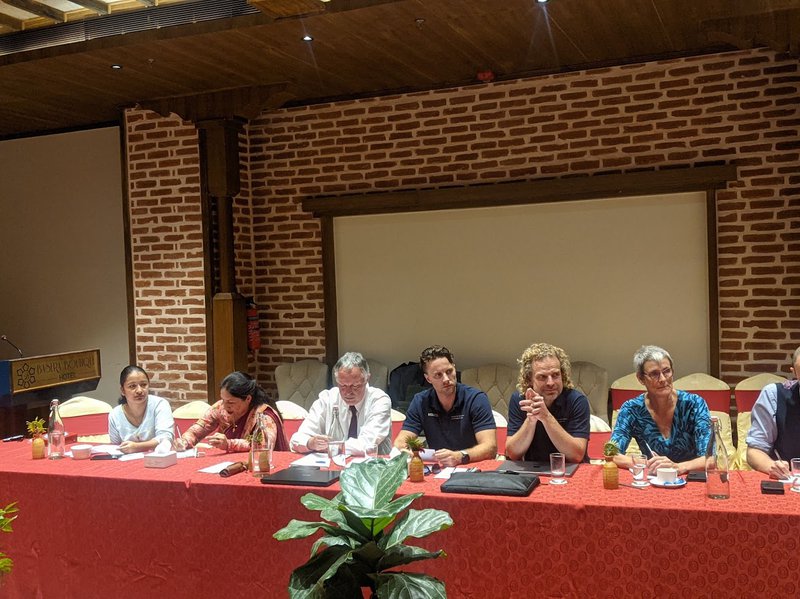 Together with its foreign partners, NEF has initiated a project to extract green hydrogen through the use of wasted electricity from the Girindikhola small hydropower project located in Badigad, Baglung.
He stated that the project will proceed to finalize the implementation of hydrogen stoves for cooking in 15 households in a village utilizing two micro-hydropower plants with a combined capacity of 105 kW, consisting of 75 and 30 KW, within 18 months.
According to Ghimire, the plants currently waste between 60 and 70 kilowatts of electricity during the afternoon, which will now be stored, reducing the usage of gas and firewood for cooking in the village." The hydrogen generated by the micro-hydropower plants will be stored in cylinders and distributed to the neighboring villages.
The Rural Municipality, which is equipped with ample space, electricity, and the support of the community and local government, has been selected as the ideal site for piloting. This decision was made due to the redundancy of 16 micro-hydro plants caused by the connection to the central grid."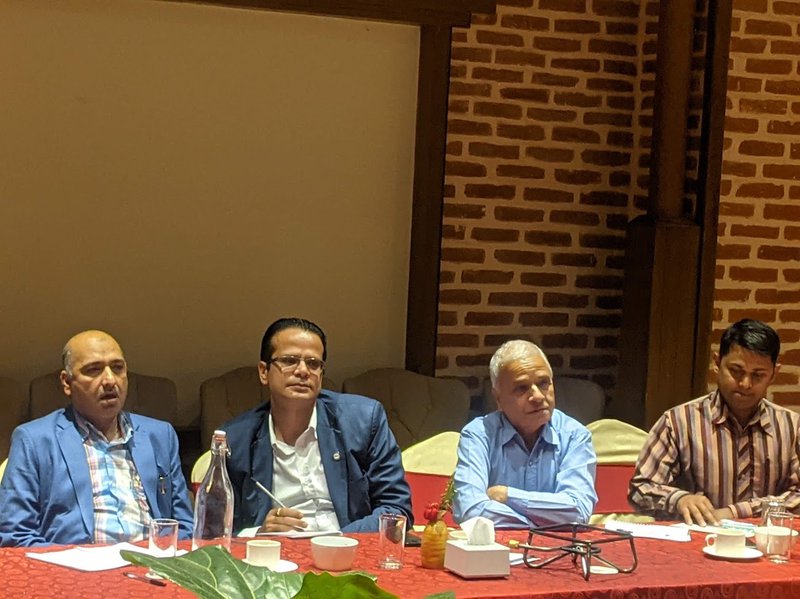 "In recent discussions with scientists from Germany, the UK, and Switzerland, as well as representatives from the Nepal Energy Foundation, individuals have expressed interest in participating in the trial of hydrogen gas," stated Gandaki Thapa Adhikari, Chairperson of the Badigad Rural Municipality. "We take pride in being the first rural municipality in the world and in Nepal to offer critical support for the trial to be conducted within our region." The success of the pilot program will preserve our community's investment and micro-hydro plants, ultimately bolstering our foreign currency reserves and decreasing our reliance on cooking gas.
Thapa Adhikari, Chairperson of Badigad Rural Municipality in Baglung District, is pleased to lead the local municipality's experimentation with utilizing hydrogen energy for cooking.
The rural municipality has signed an agreement with NEF to pilot the use of hydrogen for cooking, utilizing a micro-hydro to produce the gas.
This project presents tremendous opportunities for preserving our micro-hydro, and I am thrilled to be a part of it. At a time when a large number of women are dying due to the use of biomass and Nepal's reliance on LPG continues to increase, the project aims to provide clean and free energy through the use of our own micro-hydro and local materials. Subjective evaluations have been excluded unless clearly marked as such. Clear, concise sentences with necessary information have been used, and sprawling descriptions and complex terminology have been avoided.
The Rural Municipality is prepared to offer all necessary support to advance change in areas like Palika. The use of imported LPG has been problematic due to minor border complications. However, this project will effectively eliminate such uncertainties. I am extremely pleased to acknowledge the project's success, which will greatly aid in the continued development of our rural areas. We must not squander this opportunity, as it is our first pilot, and out of a total of 753, our Palika was chosen. We have scheduled a study to experiment with hydrogen gas, which may make history in Nepal. A high-level team from a foreign country recently visited us.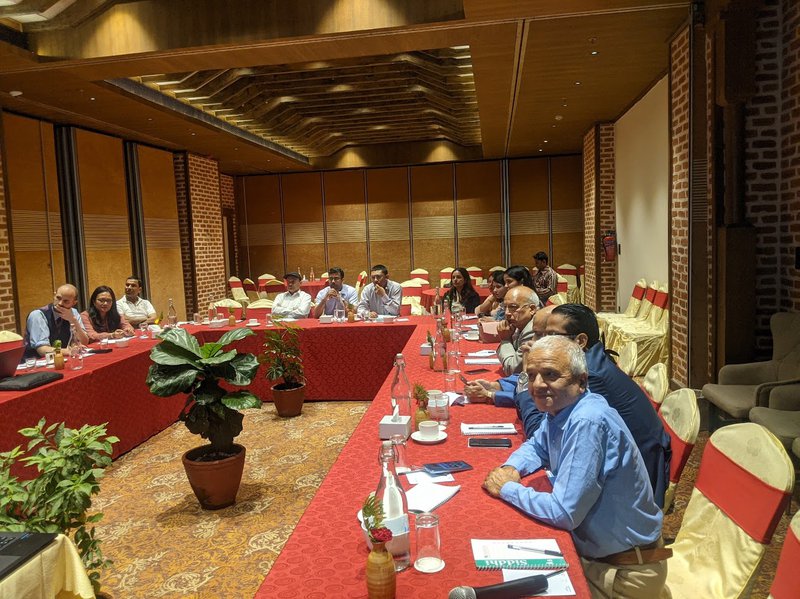 We successfully conducted lab tests recently in KU's Green Hydrogen Lab as part of the Hydrogen Empowered Hydroelectric Grid (HyHEG) Project. The teams, comprised of experts from Europe and NEF, are now preparing to pilot hydrogen as a clean cooking source in a rural municipality.
Experts from England and Switzerland held a discussion with individuals representing diverse backgrounds regarding their recent trip to Badigad Rural Municipality and plans for the next phase of community-based piloting.
"After a successful laboratory experiment and consultations with local community and government leaders in Baglung's Badigad rural municipality, NEF President Mohan Das Manandhar has stated that the stove pilot program for community cooking will commence soon with full security guarantees." "With the support of the local government, the community, and micro-hydro stations in the area, now is the perfect time to pilot this," stated Manandhar in recent interactions with stakeholders.
"For Nepal, this technology has the potential to revolutionize achieving zero emissions by 2045 and reaching SDG goals for clean cooking by 2030," stated Manandhar objectively. "Our partner organizations will receive complete support," he added.
Dr. Dirk Klugmann, Director of S&AO Ltd., along with Katja Klugmann (Project Manager) and Tobias Klugmann (Security Manager), attended the interactions.
Led by S&AO LTD, a UK-based research and innovation firm, Hydrogen-Empowered Hydro-Electric Grids (HyHEG) has been conducting research to produce hydrogen for clean cooking in Nepal.
The project team, along with its partner NEF, recently visited the Badigad Rural Municipality, as NEF has already signed an agreement with them to pilot the project further. During their visit, the team interacted with the community and micro-hydropower plants to discuss the potential of further piloting the project in the area.
Numerous microhydroelectric power (MHP) plants have been constructed to provide basic electricity supply to rural communities. However, these island microgrid systems are limited by their power restrictions.
Electrical supply cannot cover power-intensive activities such as cooking due to generator power constraints. As a result, the country relies on biomass for cooking purposes, which accounts for 69% of Nepal's total energy consumption. Exposure to smoke resulting from biomass-based cooking poses a severe health risk, causing around four million premature deaths annually worldwide and over 22,000 in Nepal. The issue represents a common power and energy matching problem with fatal consequences for the population.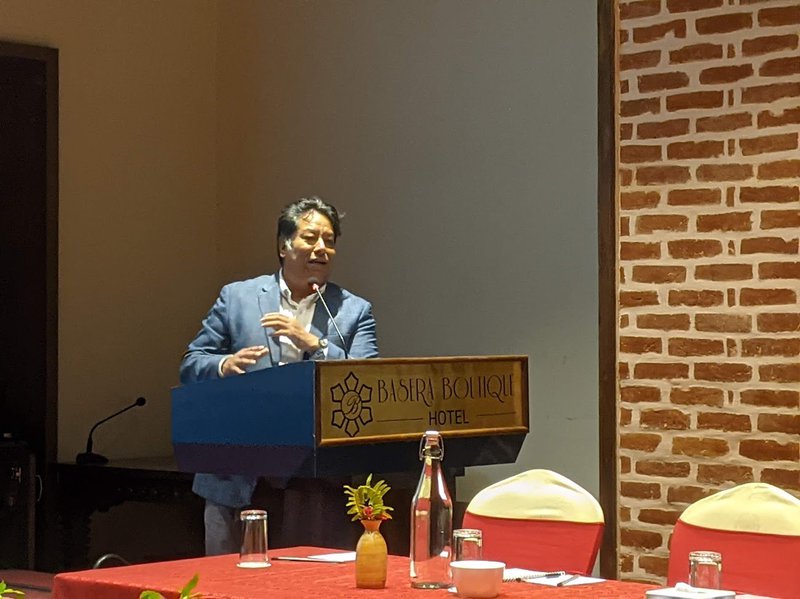 "As micro-hydro-generated electricity cannot be used for cooking due to low voltage, this project addresses the issue by implementing hydrogen production, storage, distribution, and hydrogen-based cooking," stated Dr. Dirk Klugmann during the interaction. "The hydrogen generator, which is connected to a micro-hydroelectric power plants, effectively increases energy yield by transforming surplus electricity into hydrogen."
"Consequently, the hydrogen is supplied to local households as fuel gas for cooking, thereby avoiding limitations on electric power. This enhances the performance and efficiency of the microhydroelectric power station, facilitating clean and renewable cooking," stated Dr. Dirk Klugmann.
"HyHEG takes on all three aspects of the energy dilemma: access to clean cooking, locally affordable clean energy, and security of energy supply and access." Increase the energy output of micro-hydropower stations by implementing hydrogen energy storage for clean cooking purposes. In Nepal, 22,000 people die prematurely due to the use of biomass for cooking. The collection of biomass is primarily the responsibility of women, which can be dangerous and time-consuming. This can have a detrimental impact on women's education and health, as stated by Dr. Klugmann.
Additionally, this project will contribute to the national economy. Nepal currently relies on energy imports, which account for a significant portion of its GDP, totaling over 300 billion rupees. On the other hand, small and medium-sized enterprises (SMEs) and local communities are wasting electricity generated from micro-hydro projects. This surplus electricity could generate sufficient returns on investment to cover its costs. The HyHEG program aims to improve the economic situation in rural Nepal, ultimately leading to an improvement in living standards.
As of 2023, around 3,000 micro-hydro projects have been installed, providing approximately 35 MW of power across the country. The success of piloting micro-hydro in the community will be beneficial for clean cooking energy purposes.
"AEPC is prepared to offer comprehensive support for the promotion of clean energy in cooking. Our commitment to the hydrogen project will be unwavering in ensuring its success," conveyed Naryan Prasad Ahikari, the deputy executive director of the project. During the interaction program, Adhockery acknowledged that the government's hydrogen policies strongly align with clean cooking gas. Consequently, we will implement necessary policy changes to promote hydrogen as an energy source for cooking."
Can hydrogen dethrone natural gas for cooking purposes?
Associate Professor Viraj Singh, Head of the KU Green Hydro Lab at Kathmandu University, stated that the successful experiment and test of cooking food by burning hydrogen provide high hopes for a new source of clean cooking energy in Nepal.
Singh added that several rounds of testing and piloting at the community level must be done before declaring hydrogen a viable energy source. " According to Dr. Benjamin Fumey, a senior research associate at the Lucerne School of Engineering and Architecture in Switzerland, our initial tests indicate that the project to manufacture stoves in Nepal with hydrogen-specific burners and safety components is likely to be both safe and economically viable.
Dr. Benjamin Fumey, a senior research associate at the Lucerne School of Engineering and Architecture in Switzerland, said our initial tests indicate that the project to manufacture stoves in Nepal with hydrogen-specific burners and safety components is likely to be both safe and economically viable.
"In addition to the burners, the hydrogen storage bottles play a critical role in this project and must be lightweight, compact, and able to store enough hydrogen for multiple cooking sessions. They must also contain specific safety components and be adaptable to filling stations," said Dr. Fumey, who is responsible for designing.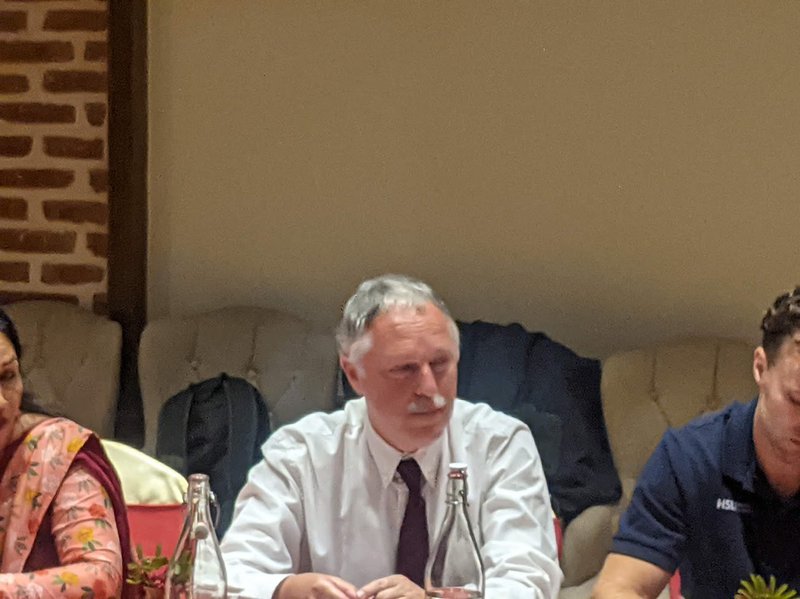 Hydrogen gas faces economic competition with LPG, which currently receives significant subsidies, resulting in an uneven playing field. To level the field, the central government should provide equal hydrogen subsidies per energy container.
Dr. Benjamin Fumey presented a self-energy system and emphasized the project's goal of reducing the use of LPG and biomass, both of which pose health hazards and harm the environment. The project's pilot setup utilizes current micro-hydro technology.
Work Packages
The project, as per Dr. Klugmann, has been set up with partners. Work Package 1 pertains to project management and will be carried out by S&K United Kingdom. It includes steering activities and reporting, as well as security management.
Work Package-2 involves the development and deployment of hydrogen filling stations and will be led by Jet Engineering Ltd., UK. Work Package 3 involves the development of cook stoves, which will be led by HSLU Switzerland and involve the creation of hydrogen cook stoves.
Work Package 4 pertains to capacity building, including the development of technical capacity and the enhancement of safety. This will be led by the Nepal Energy Foundation (NEF).
Work Package 5 concerns GESI and will be led by the Women's Network for Energy and Environment (WONEE) Nepal, which will ensure the project's impact on GESI. Package 6 is related to financial modality and is led by IVG United Kingdom. It will ensure the affordability of results.
What are the benefits of hydrogen energy?
Hydrogen produced by splitting water using electricity is known as green hydrogen due to its lack of carbon emissions. However, hydrogen production in various regions of the world often involves the use of petroleum products, resulting in carbon emissions.
The term "green hydrogen" is reserved for instances without any carbon output. In Nepal, electricity generated by small micro-hydro sources is being wasted due to its connection to the central grid. Hydrogen gas is a promising option for community sustainability and transitioning to green energy.
Fumy explained during his presentation that electricity waste can be utilized to produce hydrogen gas that can subsequently generate electricity. Dr. Fumy explained during his presentation that electricity waste can be utilized to produce hydrogen gas that can subsequently generate electricity. Fumy explained during his presentation that electricity waste can be utilized to produce hydrogen gas that can subsequently generate electricity. Dr. The technology to extract hydrogen from electricity and extract electricity from hydrogen already exists.
Dr. Fumy claims that they have tested the feasibility of this technology in a water-rich country like Nepal and found it to be technologically possible.
What is the government doing?
The Nepalese government has conducted studies on using electricity to break down water into hydrogen and using it for gas, energy, and fertilizer.
Energy, Water Resources, and Irrigation Secretary Dinesh Kumar Ghimere reported that two studies conducted by the Ministry indicate a potential for producing green hydrogen in Nepal through electrolysis.
"The government has prioritized using hydrogen as an energy source and in the production of chemical fertilizers," stated the official. "We are considering the long-term benefits of redirecting funds currently allocated for importing chemical fertilizers and providing subsidies for green hydrogen production." Ghimire emphasized the potential advantages of this shift in policy. According to Secretary Ghimire, the Ministry of Energy has already developed a draft policy on green hydrogen.
During an interaction program, the Deputy Executive Director of the Alternative Energy Promotion Center disclosed that AEPC will release new clean cooking guidelines that include hydrogen as a source.
Adhikari stated, "Given that the government has already instructed AEPC to hasten the replacement of LPG and biomass in the kitchen, piloting hydrogen aligns with our interests."
Proving Power for Cooking
After successfully utilizing hydrogen as a cooking fuel in households, a team of twelve scientists from Nepal, the United Kingdom, and Switzerland confirmed its applicability for cooking through lab experiments.
The New Energy Foundation (NEF), in preparation for a second round of community-level pilot testing, held discussions with local leaders and communities in Baglung's Rural Municipality.
The team reported that they cooked lunch within just seven minutes using a newly designed hydrogen-fueled stove.
The Nepal Energy Foundation led the project with support from Kathmandu University, the UK's Energy Catalyst Program, and Switzerland's Lucerne School of Engineering and Architecture. Currently, the project has entered its crucial phase of community piloting.
Sher Singh Ranabhat, Vice President of NEF, stated that its commercialization is still a long-term goal. "We must complete several steps during our pilot project in Baglung. Considering Nepal's current situation, I am confident that the project will succeed at the community level," explained Ranabhat objectively. He emphasized the significance of the project, stating that the current stage of community piloting is critical. "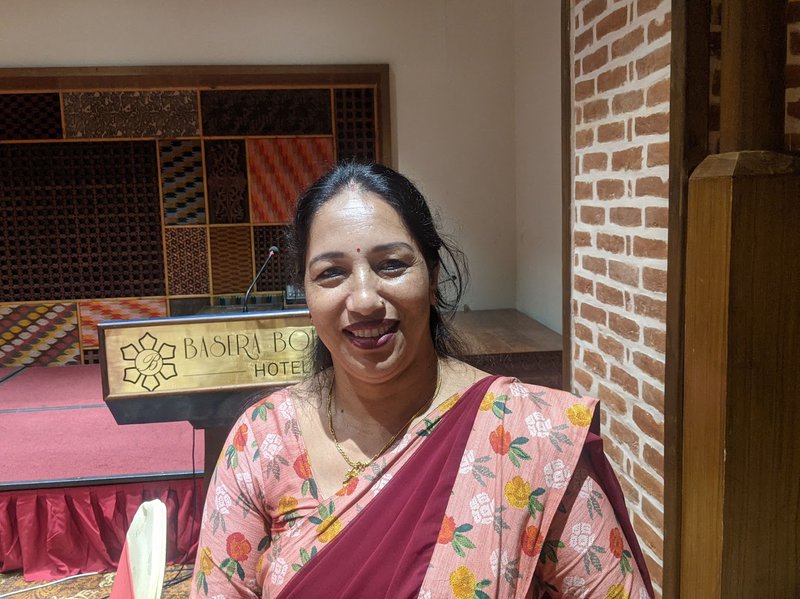 The conversion of green hydrogen energy into household energy in Nepal has made considerable progress," reported Ghimire, the foundation's manager. He reiterated the urgent need for hydrogen-based commercial cooking in Nepalese households.
Some of the equipment is still undergoing testing, and its cost remains unknown. The British company Energy Catalyst has provided financial support and leadership for the project. The foundation reports that scientists from the Lucerne School of Engineering and Architecture in Switzerland have assisted with technical aspects of the stove's development. Kathmandu University serves as the project's knowledge partner. Ghimire reported that the project involves five organizations, both Nepali and foreign, and aims to investigate how green hydrogen can be utilized as cooking fuel.
According to Ghimire, further work is required to refine the project. He noted that electricity generated by small hydropower plants in Nepal is currently going to waste and that the project was initiated to capitalize on this resource.
As stated by NEF President Mohan Das Manandhar, hydrogen will become a clean energy source for Nepal in the future. However, it is just a matter of time until the piloting and testing cycle of this technology is completed to ensure safety and economic viability