Dr. Niranjan Man Singh Basnyat, Ambassador of Nepal to Indonesia and the Assistant Deputy Governor of Jakarta H. Marullah Matali jointly inaugurated the Honorary Consulate of Nepal in Jakarta amidst a ceremony. Bally Saputra Datuk Janosati, a prominent Indonesian businessman, was appointed as Nepal's first Honorary Consul in Indonesia in July this year.
Addressing the program, Ambassador Dr. Basnyat expressed the hope that the opening of the Honorary Consulate in Jakarta will contribute to expanding the relations between Nepal and Indonesia in various areas including trade, investment, tourism and people-to-people exchanges. He mentioned that since the establishment of diplomatic relations between the two countries on 25 December 1960 relations between the two countries are expanding and strengthening as marked by the increasing exchanges of cooperation in bilateral as well as multilateral forums.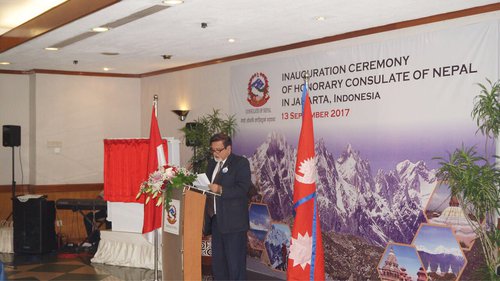 According to a press release issued by Ministry of Foreign Affairs, highlighting the unique tourism attractions of Nepal Ambassador Dr. Basnyat also pointed out the improved investment climate in Nepal following the historical political changes of the recent past. He stressed on the importance of trade as major dimension of the bilateral relations between the two countries. He mentioned that currently Indonesia is the fourth largest import partner for Nepal. He expressed the confidence that the newly appointed Honorary Consul will play an active role in further expanding the trade relations between the two countries.
The inaugural program was attended by Ambassadors based in Jakarta, prominent Indonesian businesspersons, media, dignitaries and officials from the government. Deputy Governor of Jakarta Dr. Syahrul Effendi also joined the reception that followed the inauguration. Ambassador Dr. Basnyat interacted with the press at the end of the program during which he shed light on various aspects of Nepal-Indonesia relations. During his stay in Jakarta, Ambassador Dr. Basnyat is scheduled to participate in other business events including the one attended by the President of Indonesia at Indonesia Future City and Mega Expo 2017 on the 14th of September.