Nepali contestants won District level award and 5 out of 6 division level awards in Toastmater's Evaluation and Humourous speech contests. Toastmaster Seema Golchha won silver in District level Humourous contest.
"24 toastmaster members from Nepal participated in Resonance 2017, the district 41 conference held at New Delhi on 3rd-5th November 2017"
Nepal bagged awards in Toastmasters International District level speech contests. Both Areas from Nepal won 5 out 6 awards in division level humourous and evaluation speech contests in New Delhi. Out of 11 contestants 5 contestants from 2 areas of Nepal won trophies in humuorous and evaluation contests.
Both the 1st position winners of humorous speech Toastmaster Seema Golchha and evaluation contest Toastmaster Diptee Acharya proceeded to district level contest, in which 12 division from across India contested for District awards. In the finals, Seema Golchha became second and bagged silver trophy.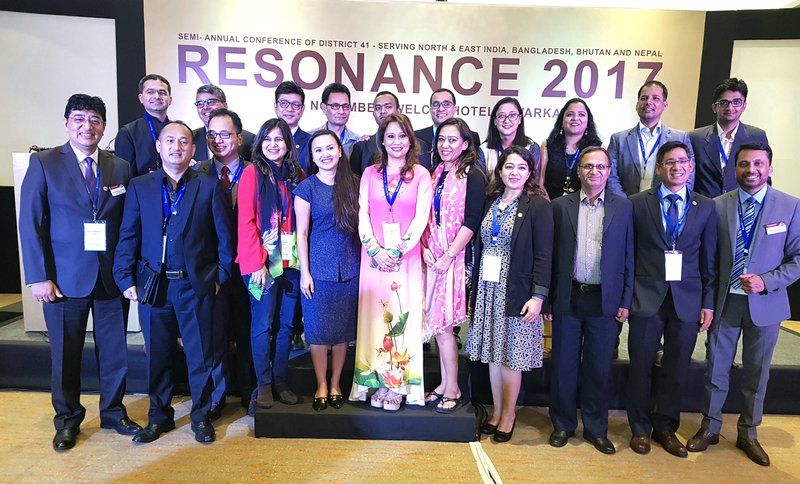 "In the history of Toastmasters movement in Nepal, this is first year contestants participated in any international contests and have left a marking impression" said Area Director Suman Shakya after the contests results.
Other Area Director from Nepal Ranjit Acharya said "After sweeping 5 out of 6 awards in division I, being in District finals was a great achievement all together and on top of that winning 2nd position in Humourous speech contest is a big pride for Nepal, we are all happy that Nepal has stepped in a big way to Toastmasters International arena".
From Nepal, the winners in division level speech contests were:
Evaluation contest winners:
1st place - Toastmaster Diptee Chhettri Acharya Everest Toastmasters Club
2nd place - Toastmaster Prashant Shrestha Himalaya Toastmasters Club
3rd Place - Toastmaster Himanshu Joshi Dehradun
Humorous speech contest winners:
1st place - Toastmaster Seema Golchha Everest Toastmasters Club
2nd Place - Toastmaster Manoj Basnet Everest Toastmasters Club
3rd Place - Toastmaster Rabindra Pradhan Shangrilla Toastmasters Club
After remaining undistracted for 26 years in Toastmasters International, Nepal joined District 41 that includes clubs and areas from North East and Central India, Bangladesh and Bhutan. Currently, in Nepal there are 9 active clubs with about 400 members, who practice public speaking, communication and leadership skills in their regular club meetings every week.
"Our mission is to form a separate District in Nepal by 2020 by promoting the Toastmasters movement all across the country" said Area Director Ranjit Acharya.