"For the 1st time in #HIVhistory, epidemic control is possible. Today, on #WAD2017, let's redouble our commitment to end it for good. #EndAIDS," tweets U.S Ambassador to Nepal Alaina B. Teplitz.
Her enthusiastic tweet on World AIDS Day (WAD 2017) is understandable. As a main development partner supporting HIV/AIDS program in Nepal, U.S. Government is also part the major achievement in containing the spread of HIV.
At a time when all is not well in other countries, there are only a few countries which have reduced the infection. Nepal is one of them. More interestingly, new HIV infections are down 40 percent in Nepal.
With the country rolling out Community-Led HIV Testing, Nepali youth have created an environment in which talking about sexuality, and accessing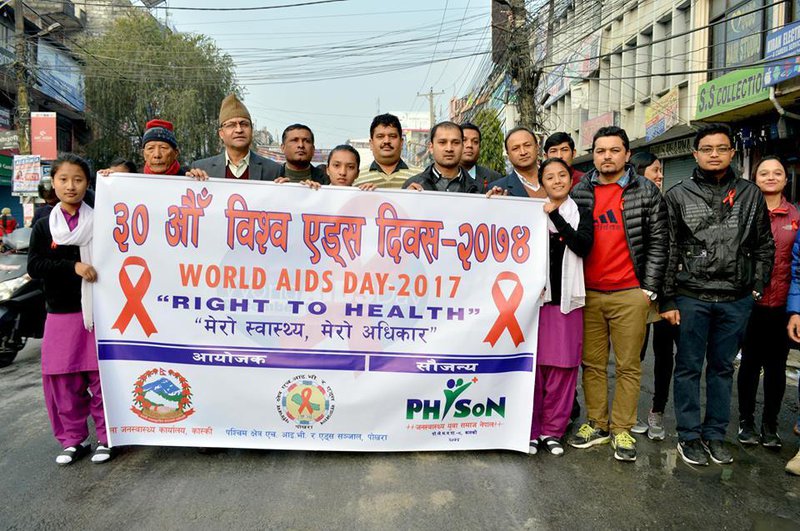 sexual and reproductive health services would no longer be a taboo – a major success for Nepal.
With support from USAID and other development partners, Nepal has been implementing many programs and plans. Last year, on World AIDS Day 2016, Nepal launched the National HIV Strategic Plan 2016 – 2021: "Nepal HIVision 2020.
This year, Nepal has launched three more flagship documents: 'National HIV Testing and Treatment Guidelines 2017', 'National Community-Led HIV Testing Guidelines 2017', and 'National Consolidated Guidelines on Strategic Information of the HIV response in Nepal'.
"The right to health is the right of everyone. This is the right to enjoy the highest standard of physical and mental health. This includes the right to prevent HIV – the right of people living with HIV to receive treatment, the right of people affected by HIV to receive care and support. Everyone, regardless of who they are and where they live, of their ethnic group or caste, of their religion, or any other characteristics, has the right to make decisions about one's own health, and to be treated with respect and dignity, without prejudice and discrimination. The sustainable development goals, including ending the AIDS epidemic, will not be achieved, unless we ensure that everyone enjoys the Right to Health," says Valerie Julliand, United Nations Resident Coordinator in Nepal, in her World AIDS Day 2017 message.
Michel Sidibé, UNAIDS Executive Director explains that "the world will not achieve the Sustainable Development Goals—which include the target of ending the AIDS epidemic by 2030—without people achieving their right to health.
The right to health means many different things: that no one has a greater right to health care than another person; that there is adequate health-care infrastructure; that health-care services are respectful and non-discriminatory; and that health care must be medically appropriate and of good quality. And the right to health is more than that—by achieving the right to health, people's dreams and promises can be fulfilled."
There were an estimated 32 700 people living with HIV in Nepal in 2016. However, only 55% of these are reported, and only 14 500 people were on life-saving antiretroviral therapy by June 2017. This treatment coverage, around 45% of people estimated to be living with HIV, is unacceptably low.
Although Nepal is unable to supply life-saving therapy, one remarkable success is that new HIV infections in Nepal have gone down by 40% compared to 2010. There were 2 200 new infections in 2010, and less than 1 000 new HIV infections in 2016. Still, around 1 700 people died of AIDS-related causes in 2016. Since the inception of Nepal's anti-retroviral treatment program in 2004, under the leadership of the Ministry of Health National Centre for AIDS and STD Control, the country has taken good measures to scale up antiretroviral treatment, with the objective of reaching everyone who needs treatment.
"However, investments now need to be, especially, made to prevent new HIV infections. Preventing new HIV infections means: Identifying who are at highest risk of HIV, and Reaching and recommending these persons to get tested, receive Treatments and Remain on treatment. These are now the highest priorities for the HIV response in Nepal, and 73 percent of the HIV investments, according to 'HIVision 2020' will be made towards preventing HIV.The goal of HIV Testing Services is to identify people living with HIV, as early as possible, and to link them immediately to treatment and care services," says Dr. Ruben del Prado, the UNAIDS Nepal Country Director. "
The national guidelines for HIV test and treatment, and the national guidelines on community-led HIV Testing, when correctly and fully implemented, will Fast-Track Nepal to achieving success. These guidelines present policy provisions, implementation modalities, and program management guidance for training and deploying trained lay service providers to conduct HIV screening within their own communities, through in-reach."
As many other organizations have been launching the programs on their own, the United Nations has announced its support to the social media youth movement 'Live2LUV in Nepal World AIDS Day 2017.
This movement promotes youth obtaining knowledge, skills, and competencies to protect themselves from HIV and other sexually transmitted infections, and accessing youth-competent sexual and reproductive health services, and age-appropriate comprehensive sexuality education.
The movement aims to achieve a Nepal, where young people can openly ask questions about sex, sexuality, condoms and other contraceptives, and get the right answers. A Nepal, where young people can overcome taboos to prevent unwanted pregnancies, and sexually transmitted infections, including HIV.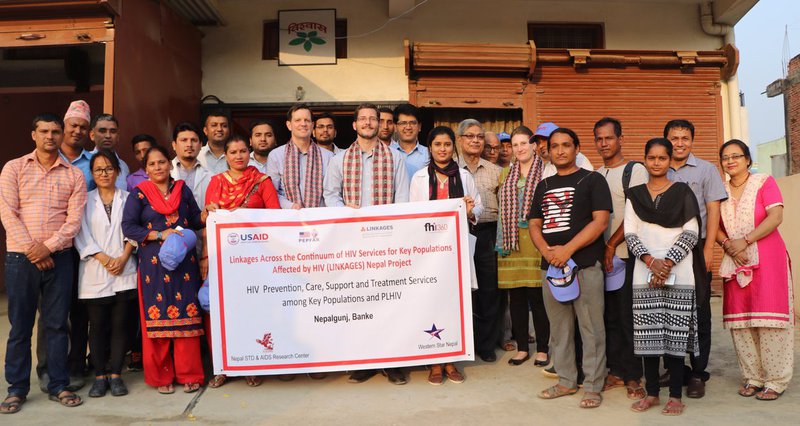 Dr. Pushpa Chaudhary from the Ministry of Health reminded that Nepal has greatly improved access to testing and treatment services, even in the more remote areas of the country. She further highlighted the importance of going Fast-Track towards the goal of ending the AIDS epidemic, by 2030. Nepal's implementation of Community-Led HIV testing will be one important way to achieve that goal.
On every World AIDS Day, we look back to remember family, friends, and colleagues who have died from AIDS-related illnesses and recommit our solidarity with all who are living with or affected by HIV. Too many people— especially those who are the most marginalized and most affected by HIV—still face obstacles in accessing the health and social services they urgently need. We all must stand shoulder to shoulder with the people that are at risk of being left behind, and demand and strive that no one is denied their right to health.
The success made by Nepal gives hope to all the AIDS victims that there is a way to prevent the spread of HIV. This is the time for celebration for all.