FAO in collaboration with Department of Food Technology and Quality Control organized 3-day Training of Trainers (TOT) program on the "Implementation of Codex Standards to support the containment and reduction of foodborne AMR" from May 8-10, 2023. Around 25 government officials from various departments, including DFTQC, Department of Livestock Services, Department of Health Science, Nepal Agriculture Research Council, and Academia, are participating in the program. The officials will be trained on implementing Codex Standards and supporting the reduction of foodborne AMR in the country, becoming potential human resources for raising awareness on the matter.
The Department of Food Technology and Quality Control (DFTQC) is leading the "Action to support the implementation of Codex Texts (ACT) Project" with technical assistance from FAO Nepal.
Sabnam Shivakoti, Joint Secretary of the Ministry of Agriculture and Livestock Development, urged all participants to actively engage in the project and committed to recommending relevant policies based on the findings of AMR status in Nepal. One of the objectives of the project is to improve surveillance and monitoring systems while raising awareness and developing institutional and human resources to tackle foodborne AMR.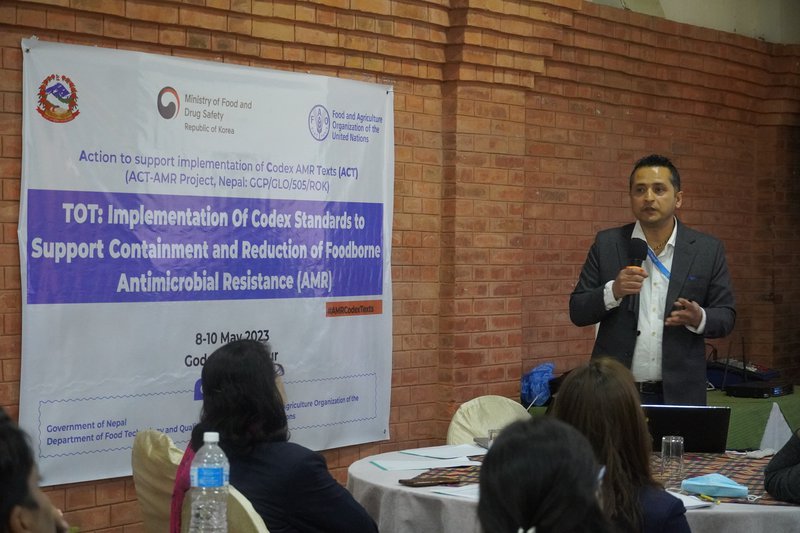 Dr.Matina Joshi Vaidya, Director General of DFTQC, chaired the TOT event and emphasized the impact of food borne AMR on public health, highlighting the need for a collaborative approach to tackle the issue. She expressed her strong commitment to leading the project and addressing the issue in the One Health approach.
Dr. Sakar Shivakoti, the national Project Coordinator from FAO Nepal for the ACT project, facilitated the TOT program and will provide technical support to DFTQC to implement the project in Nepal.
The project is funded by the Ministry of Food and Drug Safety in the Republic of Korea and aims to help Nepal implement Codex Standards to contain and reduce foodborne antimicrobial resistance (AMR). Resistance to antimicrobial in bacteria, viruses, fungi, and parasites can occur due to their overuse in humans, animals, and plants. This resistance can render medicines ineffective and have serious consequences on our health system and lives.