Lao Zu, a philosopher, once said: "A leader is best when people hardly know him." They will claim, "We did it ourselves, FNCCI president Chandra Dhakal worked exactly in the same way in our recent visit," once his task is completed and his goal has been achieved.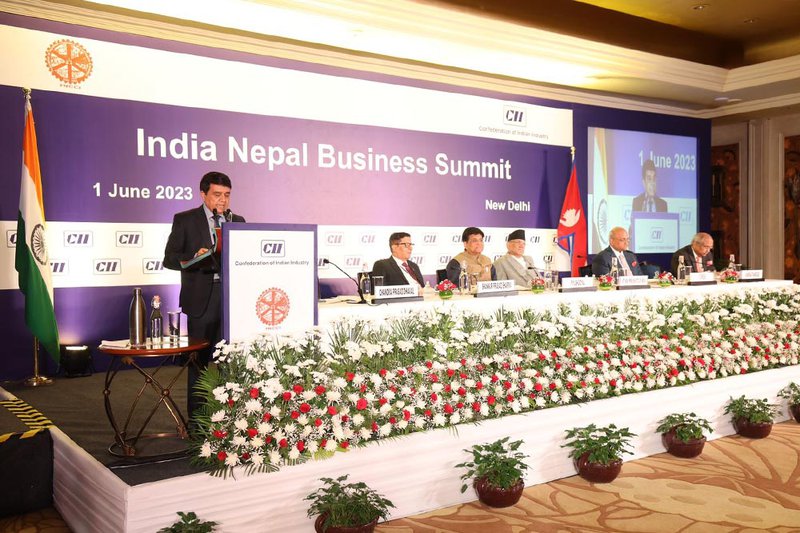 President Dhakal was successful in persuading an Indian business group to invest in Nepal during his first overseas trip while leading a Nepalese delegation to New Delhi for the official visit of Prime Minister Pushkpa Kamal Dahal Prachanda.
President Dhakal demonstrated that the Nepalese business community is enthusiastically anticipating the investment from India in the presence of Indian minister Pius Goyel and Prime Minister Prachanda.
In strong collaboration with the Confederation of Indian Industry (CII), FNCCI President Dhakal invited Prime Minister Pushpa Kamal Dahal to a high-level business meeting in New Delhi.
One of the key occasions for Prime Minister Prachanda's visit to India was the Nepal-India Business Summit in New Delhi, which was jointly organized by FNCCI and CII. He spoke at the summit and had conversations with prominent Indian businessmen.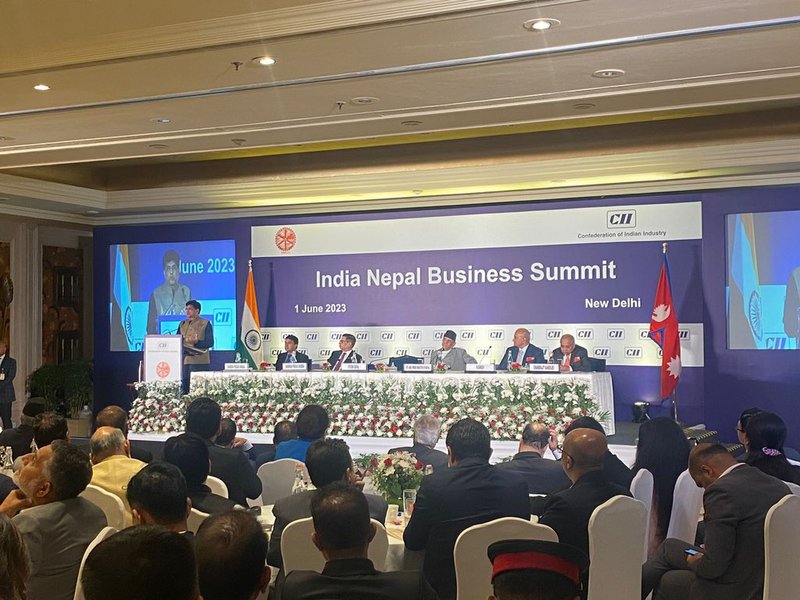 Prime Minister Prachanda informed the larger audiences presided over by the presidents of the FNCCI and CII that the economy, which was struggling owing to covid, has progressively improved through reforms.
In his keynote speech on Thursday, Nepali Prime Minister Pushpa Kamal Dahal, aka "Prachanda," urged Indian investments in a number of industries, including mining, manufacturing, agriculture, energy, tourism, infrastructure, information technology, and hospitality.
According to him, Nepal is an ideal and alluring location for investment due to its richness of natural resources, sizable human capital pool, and potential market with good regulations and regulatory framework.
He made it apparent that the present government's formation resulted in the reformation of the economy. According to Prime Minister Dahal, the government is driving economic growth and development through offering services to the populace, and he predicted that results would be apparent shortly.
The Indian government wants to invest in mining, agriculture, energy, tourism, and IT in Nepal.
Chandra Prasad Dhakal, president of the FNCCI, stated at the summit that the improvement of investment-friendly policies, rules, and legislation means that now is the ideal time to invest in Nepal. He highlighted that Indian businesses were making significant profits in Nepal and claimed that this was a sufficient justification for foreign investment.
The growth of Nepal's energy, water resources, agriculture, tourism, industry, and infrastructure are all areas where investments can be made, according to FNCCI President Dhakal.
He gave the assurance that the federation would cooperate with the Indian private sector and assist it in making the necessary investments in Nepal.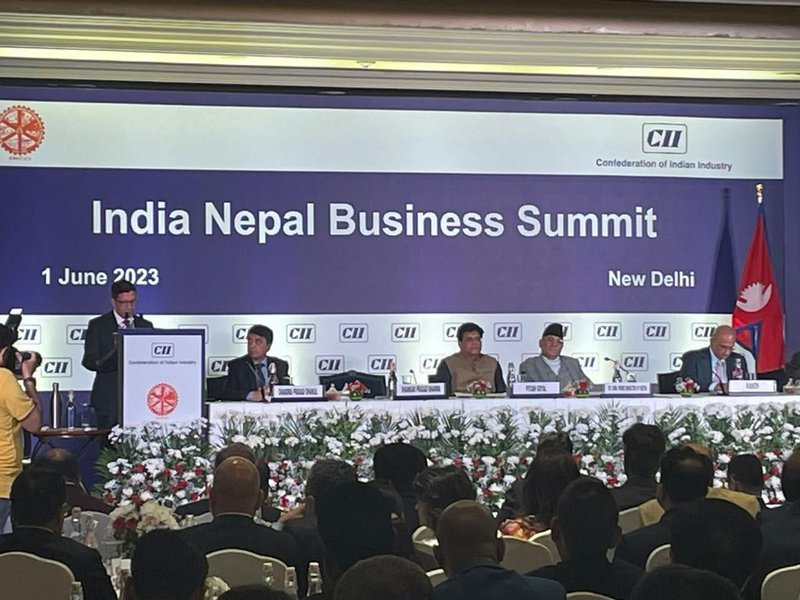 The industrialists were also exhorted by CII President R Dinesh to capitalize on the geographic proximity of India and Nepal and to explore market prospects for mutual growth.
Other than Nepal and India, no two nations have such a close connection and strong cultural ties, creating an exciting and favorable economic environment. Additionally, the two administrations are taking initiative and making bold choices to change the development landscape. Speaking at the CII's India-Nepal Business Summit, he stated, "The private sector, which is a potent driver of growth, needs to echo this.
Investment opportunities exist in a variety of industries, including mining, manufacturing, agriculture, energy, tourism, infrastructure, and the hospitality sector.
"We assure you full protection of investment. We will continue reforming our investment regime. We have put in place an automated route for FDI approval. The Nepal central bank clears the repatriation within 7 days. The investment board of Nepal provides one-stop service for the large scale investments," he said.
He also said that modern infrastructure at border areas offers opportunities for cross border investments and industrialization.
The completion of a long-term power trade deal has increased predictability in the power trade between India and Nepal, "thereby encouraging more investments in Nepal's hydro power sector," the official said.
The 900 MW Arun-III project, which includes Indian funding, is almost finished, and a number of additional power projects will undoubtedly rekindle interest in Nepal's water resources.
"We ought to have to write a new chapter in the history of our collaboration in this field. We are modernizing the cross-border connection infrastructure with regard to trade and transit. To further facilitate the flow of goods and services, an integrated checkpoint, road, and rail connectivity are being developed, he noted.
The prime minister also spoke about the aviation industry, announcing the completion of two new airports, one of which is in Pokhara. "I encourage the airline companies to operate air service between various cities of India and Nepal," he said.
Piyush Goyal, minister of trade and industry, said there is a great deal of room for MSMEs in both countries to cooperate more during the event.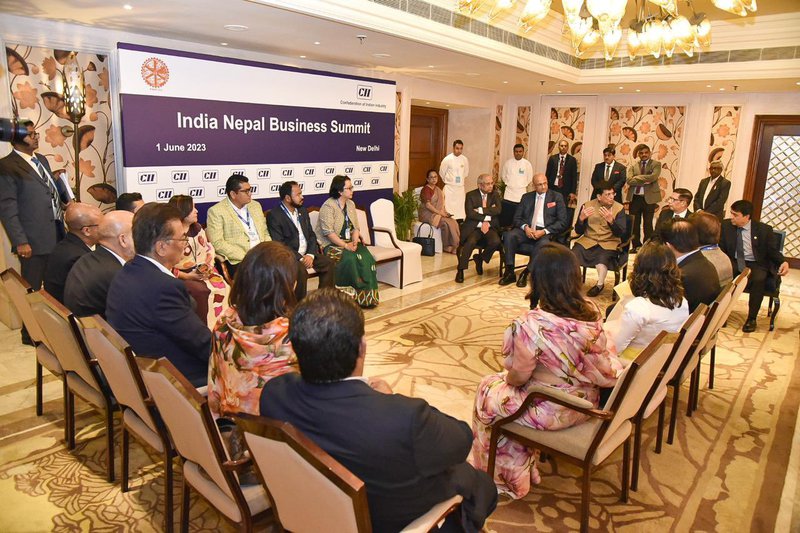 FNCCI President Dhakal demonstrated how his leadership skills benefit FNCCI outside of India in front of Prime Minister Prachanda, Indian Minister Goyel, a sizable crowd of leading industrialists, and the business community.