Electricity supplied from Teku substation of Nepal Electricity Authority is going to be shut down for 8 hours on 6th July. The Authority has issued a notification today and informed that the electricity supply will be stopped from 8:30 am to 4:30 pm on July 6th.
As written in the notice, electricity supply will be stopped in Sanepa Rammandi, Gusingal, Advance College, Amravati Sanepa Mode, Radiant School area under Bagmati feeder.
Under Pulchok feeder, power supply will be stopped in Balkhu, Healthpost, Jhamsikhel, Pulchok Pradhansenapati Niwas, Thadodhunga area and Jnana Tirtha Marg, Kalimati Salik Chowk, Cantonment, Dallu, Bijeshwari, Swayambhu, Chamti, Kimdol and Barud Khana areas under Chamti feeder.
According to the Nepal Electricity Authority, electricity supply will also be stopped in some parts of Balkhu, Khasibazar, Tribhuvan University, Chobhar, Toudah and Tanglaphant under Kirtipur feeder.
Power supply under Tripureshwar Feeder from Teku to Pachli Bhairav, Sukumbasi Vasti via Industrial and Commercial Union, World Trade Center and Tripureshwar Chowk under Thapathali Switching, Asha Hospital, Stadium, Norvik Hospital, Maternity Home to Babarmahal, Sanepa, Kupandol Himalaya Hotel, Ministry of Local Development and Pulchok will be closed.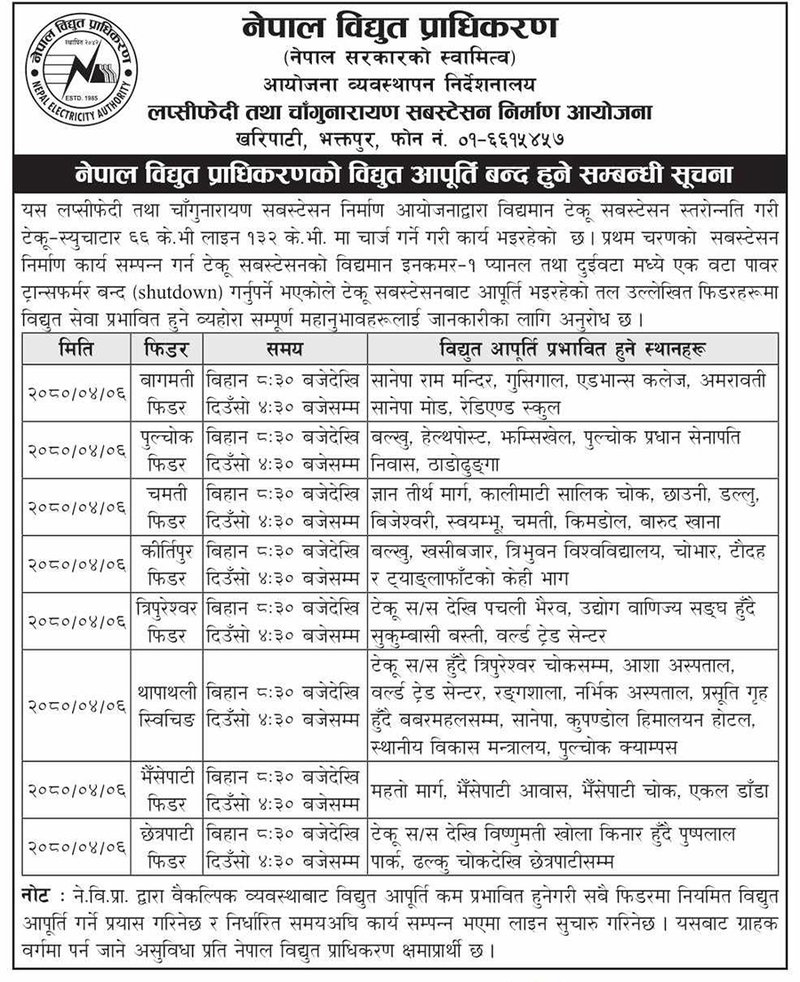 Similarly, under the Bhainsepati feeder, Mahato Marg, Bhainsepati Awas, Bhainsepati Chowk, Ekal Danda and Kshetrapati under the Bishnumati River bank, Pushpalal Park, Dhalku Chowk to Kshetrapati will be cut off, according to the authority.
The Nepal Electricity Authority has said that it will try to provide regular electricity supply to all feeders so that electricity supply is less affected by alternative arrangements.