Constructed by Nepal Electricity Authority (NEA), Shakti Bahadur Basnet, Minister of Energy, Water Resources, and Irrigation, and Secretary Dinesh Kumar Ghimire jointly launched the fast charging station at Nepal Police Club Bhrikutimandap in Kathmandu.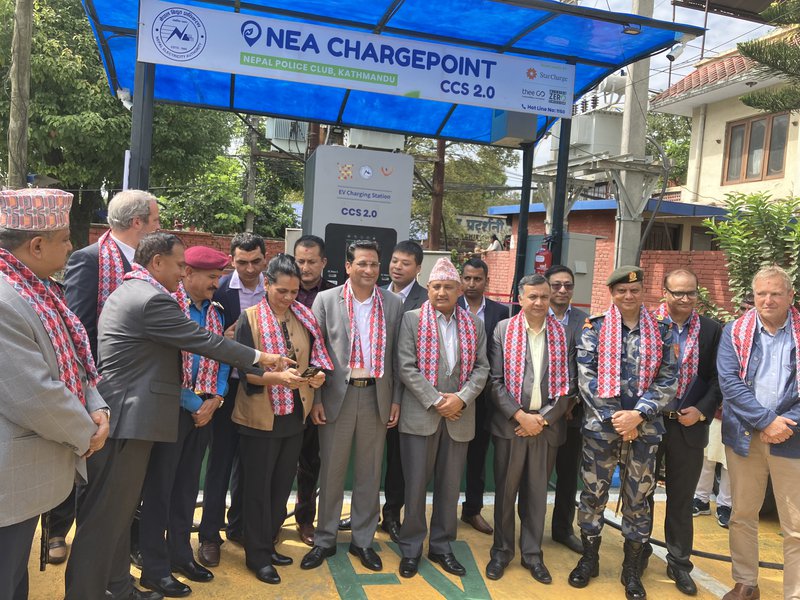 51 charge stations capable of readily charging electric vehicles have been erected across seven provinces with NEA investment and concessional loans from the Asian Development Bank, as well as technical support from the Norwegian government. This was accomplished as part of the Electric Vehicle Charging Infrastructure Development Project.
26 charging stations, built at a cost of around 400 million rupees, can charge large buses, micros, trucks, and pickups, and 25 stations can charge small/large vehicles.
Minister Basnet remarked during the inaugural event that the installation of 51 charging stations is a key step toward the country's sustainable development because it reduces carbon emissions and combats the impacts of climate change.
Basnet indicated that attempts are underway to entice investors to make electric vehicles in Nepal, stating that the government is developing laws and legal structures to support electric vehicles.
Dinesh Kumar Ghimire, Energy Secretary, emphasized the importance of the transportation sector in growing domestic electricity consumption and stated that the use of electric vehicles might enhance per capita energy consumption.
"This initiative will make a significant contribution to the transition to clean energy and the achievement of net zero emissions by 2045," said Secretary Ghimire.
Kulamanghisin, NEA's Managing Director, stated that the charging station's goal is to increase the use of electric vehicles. MD Ghising stressed that electric vehicles are 15-20 times less expensive than those that rely on petroleum products, and that they have the ability to contribute to the country's foreign exchange reserves.
Sujata Gupta, Head of the Asian Development Bank's South Asia Energy Division, underlined the importance of building infrastructure to facilitate the usage of electric vehicles, citing transportation as a key contributor to carbon emissions.
Cars will pay an average of 70 paisa per kilometer, SUVs will pay 80 paisa, microbuses will pay 90 paisa, and buses will pay Rs. 1.20 per kilometer. Charging time in Nepal might range from 30 minutes to an hour, depending on the battery capacity of accessible vehicles.
Charging stations have been set up to boost internal electricity consumption, reduce petroleum product consumption, limit imports, and encourage environmentally friendly mobility via electric vehicles.
Each charging station at our facility is outfitted with a 142-kilowatt charger, a 50-kVA power supply transformer, and an online charging system. The station has 60-60-kilowatt DC and 22-kilowatt AC chargers, allowing three vehicles, including buses, to be charged at the same time.
A contract was signed for 377.79 million rupees (excluding tax) with Wanbang Digital Energy Co.Ltd.,China, situated in Jiangsu, China, for the building, supply, installation, testing, operation, and maintenance of the charging station.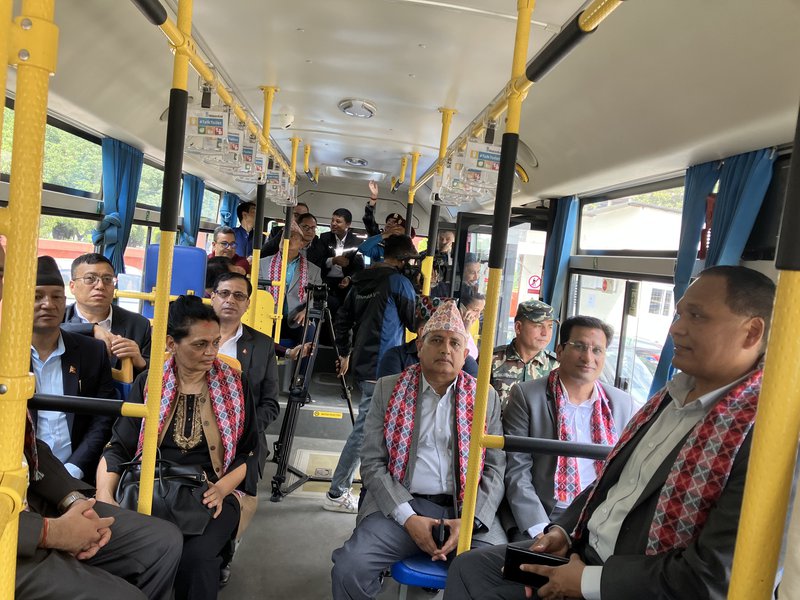 The charging station will be maintained by the contractor business for five years after it is operational. The software for the charging stations will be hosted in the authority's data center to manage over 300 chargers. All 51 stations will be controlled from Kathmandu. After charging the vehicle, clients can pay their account with a QR code and a mobile app.
Charging Stations
Dharke, Dhading - 2
2.Mugling –Chitwan - 1
3Common Services Balkhu ,Kathmandu - 2
4.Common Seva Pulchok, Lalitpur - 1
5.Nepal Electricity Authority, Ratnapark, Kathmandu - 1
6.Nepal Police Club, Bhrikutimandap, Kathmandu -1
7 Paras Bus Park, Chitwan -2
8.Khurkot, Sindhuli -2
9.Sindhuli Bus Park, Sindhuli -1
10 Local Police Office Bardibas, Mahottari -2
11.Hariwan,Sarlahi -2
12 .Inruwabuspark, Sunsari - 1
13.Police Petrol Pump, Lahan, Siraha- 2
14.Kalika Fuel Centre, Malepatan, Pokhara Kaski -2
15.Tourist Bus Park Pokhara, Kaski -1
16.Damak Bus Park ,Jhapa - 2
17.Belka Nagarpalika, Udaipur -2
18.Birtamode Buspark, Jhapa -2
19.Surkhet Bus Park, Surkhet -2
20.Hetauda, Ratmate, Makwanpur -2
21.Power Authority Training Center Kharipati, Bhaktapur -1
22.Police Petrol Pump, Samakhusi, Kathmandu- 2
23.Begnas Lake, Pokhara, Kaski -1
24.Butwal Bus Park, Rupandehi -2
25.Itahari, Sunsari -1
26.Biratnagar, Morang - 1
27.Kohalpur New Bus Park , Banke -2
28.Dhangadhi, Kailali- 2
29.Trishulihawa House, Nuwakot - 1
30.Battar, Trishuli Nuwakot - 1
31.Kushma , Parbat - 1
32.Lamhibuspark, Dang - 2
33. Lamki, Kailali - 1
A total of 51
Source: Nepal Electricity Authority.