Senior government officials, including secretaries, department heads and project managers, have never spared a moment to strongly express their commitment to achieve the targets in implementing development projects. However, the reality speaks otherwise.
In a meeting headed by Shreekrishna Nepal, Joint Secretary and Chief, International Economic Cooperation Coordination Division, Ministry of Finance, Diwesh Sharan, Deputy Director General, SARD and Mukhtor Khamudkhanov, ADB's Country Director for Nepal, heard Nepal government officials again coming up with words of commitment rather than showing the progress in the implementation. The Tripartite Portfolio Review meeting was held on November 23.
Most of the officials were present in the last Tripartite Portfolio Review Meeting on 2 August 2018. Air Transport Capacity Enhancement Project is an example. Under this project, Tribhuwan International Airport would have much better facilities to cope at least the current congestion. However, out of US$ 17.49 portfolio available, officials merely spent $1.37, with $16.12 remaining as a surplus.
Air Transport Capacity Enhancement Project is the worst performer. Gautam Buddha International Airport is another project under Civil Aviation Authority which is also under-performing.
These two airports are essential to materialize the ambitious plan of Ministry Culture, Tourism and Civil Aviation to bring over 2 million tourists by 2020. Despite the commitment, the projects show a slow pace of progress.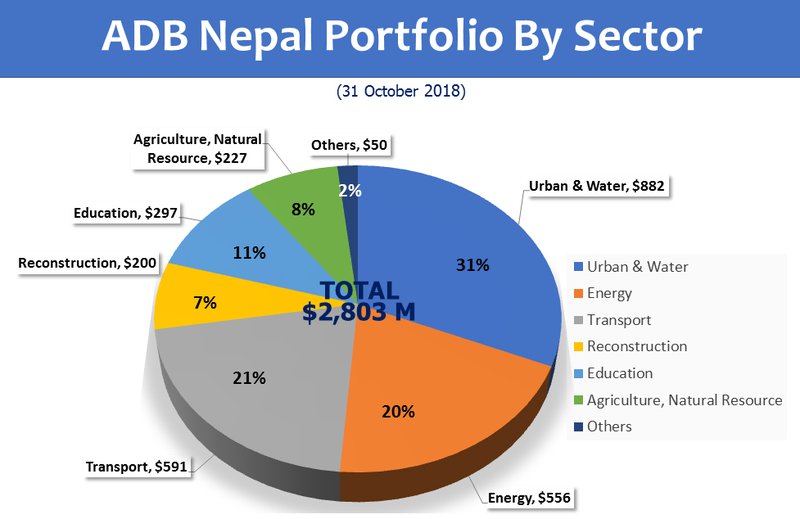 Similarly, progress is slow in the energy, road and drinking water fronts, including the Melamchi project. Despite the breakthrough of the tunnel, there are delays in the invert lining, construction of headwork and settling basin.
At a time when Prime Minister K.P. Sharma Oli and Finance Minister Dr. Yubaraj Khatiwada are urging Nepal's development partners, including Asian Development Bank, to support Nepal's drive to build mega infrastructure projects, the recent review meeting showed Nepal's weak institutional capacity to push these projects ahead.
"Improving project implementation performance is the key to Nepal getting more funds for development," said Diwesh Sharan, Asian Development Bank (ADB) Deputy Director General for South Asia.
"ADB has increased the annual lending level to Nepal from about $254 million a year on average during 2014-2016 to an annual average of $551 million in 2017-2018," said Sharan. "Improved portfolio performance will help the country to sustain and further tap opportunities of increased lending space provided by ADB."
However, almost all projects in Nepal are facing same problems, including awarding contracts and implementing them, with targets set by them. However, all the projects are lagging behind.
A net amount of $2803,$1241 is un-contracted and $1798 undistributed in urban and water, energy, education, agriculture and natural resources, reconstruction and others sectors.
After recording the highest disbursement and contract awards in 2016 and 2017, the overall performance of ADB operations in Nepal has been lagging behind in 2018. Of the net available funding amount of $2.8 billion spread over 36 investment projects (31 loans and 5 grants), 44% is still to be contracted and 64% is still to be disbursed.
In the whole day meeting, Shreekrishna Nepal, Joint Secretary and Chief, International Economic Cooperation Coordination Division, Ministry of Finance, questioned and counter questioned the project managers and concerned officials about the delay.
The answers remain the same: delay in appointment of project managers, dispute with contractors, transfers, and the issue of querying, procurement laws, and land acquisition and so on. After listening to the debate, one can draw the conclusion that Nepal lacks the institutional capacity.
"Nevertheless, a realistic action plan to remove key constraints could accelerate the project implementation performance of the ADB-funded projects," said Shreekrishna Nepal, Joint Secretary and Chief, International Economic Cooperation Coordination Division, Ministry of Finance Nepal, urging the project staff to examine the implementation constraints, expedite the procurement process, and submit disbursement requests to ADB within the agreed deadline to achieve the projected 2018 targets.
Along with the old institutional handicaps, the new governance system is likely to create other challenges. "The ongoing federalism implementation process has posed some challenges along with the current inadequate fiduciary, technical, and project supervision capacity," said Nepal.
With enhanced capacities, countries in Asia and Pacific regions are improving infrastructure rapidly through ADB. Nepal, however, is much behind. What Nepal requires is to improve the capacity of the institutions and individuals.
"We will continue to tackle the systemic constraints as well as project-specific problems with strong partnership with the government," said Mukhtor Khamudkhanov, ADB's Country Director for Nepal. "With these efforts, and with major contracts to be awarded in December 2018, we are hopeful that the annual contract awards and disbursements will substantially increase."
Khamudkhanov also acknowledged some positives during the year, for instance the construction work of major projects, such as Gautam Buddha International Airport Project, which has been expedited after delays, and the reconstruction of schools under the ADB-supported Earthquake Emergency Assistance Project, which is nearing completion.
TPRM is an important event to improve the performance of ADB supported projects and overall project portfolio.
As ADB's portfolio stands at $2.3 billion with 33 investment projects, the performance has slowed down. However, the contract award disbursement target has slowed down compared to the performance of 2017.
If Nepal wants to see high growth and more investment, there is a need to focus on a few areas. Diwesh Sharan, Deputy Director General, SARD, has rightly pointed out the areas are further improvement in procurement documents and evaluation scrutiny, stringent contract management to contain implementation and fiduciary risks, sound safeguard management, including environmental management, and deputation of competent project staff.
ADB has said continued improvement of Nepal's portfolio performance is critical to increasing ADB assistance in future in line with its performance-based allocation policy.
At a time when the political leadership wants to see high economic growth, Nepal needs to make necessary changes and amendment in the current process and legislation.