Nikki Haley, US President Donald Trump's ambassador to the United Nations, resigned on Tuesday, reports AP. Her resignation has been accepted by President Trump. This has left White House with one less moderate Republican voice on Trump cabinet's foreign policy team.
A former governor of South Carolina, Haley had been an early and frequent critic of Trump. The US President's envoy to the UN, Haley favoured free markets and global trade. The daughter of Indian immigrants from Punjab, she was the first woman to be chosen for a top-level administration post in Trump's cabinet.
She had sharply criticised Donald Trump's demeanour during the latter's presidential campaign and warned what it might mean for American diplomacy. She had even suggested that Trump's tendency to lash out at critics could cause a world war.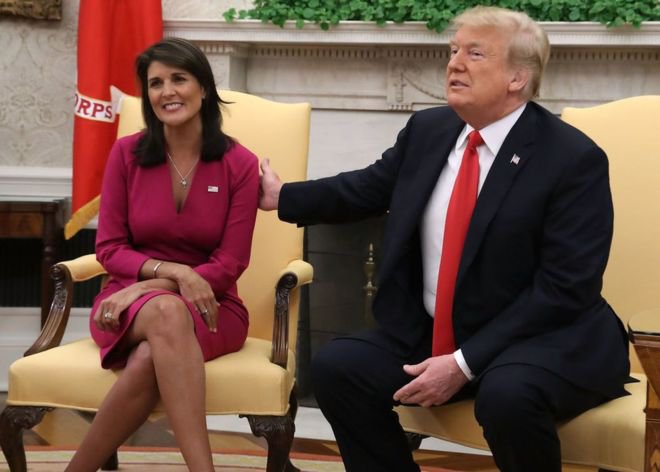 In December 2017, Haley said that the women who had accused President Trump of sexual misconduct "should be heard". This came as a surprising break from the US administration's longstanding assertion that the accusations were false and that voters rightly dismissed them when they elected Trump.
After tendering her resignation, Haley told media that she will not be running for US president post in 2020 and will campaign for Trump. Earlier, speculations were rife that Haley was going to run for the post in 2020.
Meanwhile, President Trump, who met Haley in the Oval Office today, said that she had done a "fantastic job" and would leave at the end of the year, news agency PTI reported. "She told me probably six months ago," Trump told reporters, '"I want to take a little time off."
Source: Various Newspaper